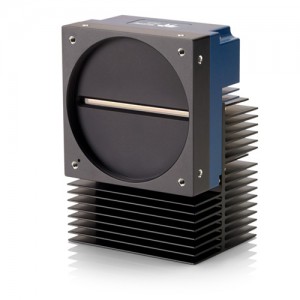 Teledyne DALSA, a Teledyne Technologies company announced that its newest charge-domain CMOS TDI camera–the Linea HS is in volume production. Based on a multi-array TDI sensor architecture, the 16k camera offers 300 kHz line rate or 5 GPix/sec data throughput for high-performance imaging applications such as flat panel display, PCB and wafer inspection, gene sequencing, digital pathology, and web inspection.
The Linea HS family offers versatile capabilities for monochrome/HDR, multifield, and super resolution imaging in light-starved conditions. For the monochrome model, the sensor has two arrays. The main array has 128 stages, while the secondary array has 64 stages. The sensor offers the best detectability, with a much lower noise equivalent exposure, and improved MTF when compared with existing CCD TDI devices. New features such as active pixel-assisted alignment helps end-users to precisely align samples under inspection.
Combined with the Xtium2 CLHS series of high-performance frame grabbers from Teledyne DALSA, these new products represent a breakthrough in data throughput in the industry. Built on field-proven technology, the next generation CLHS fiber optic interface provides reliable and high throughput data transmission. Fiber optic cables lower system costs, offer longer cable lengths (up to 300 m), are immune to electromagnetic radiation, and are ideal for industrial environments. Teledyne DALSA's Xtium2 family of high-performance frame grabbers feature the PCI Express Gen 3 x8 platform.
Key Features:
High speed of up to 300 kHz line rate in 16k/8k resolutions, or 5 Gpix/sec
Mono/HDR imaging with single or dual outputs
Very low noise and high sensitivity
Active pixel assisted alignment
Camera Link HS fiber optic interface for high reliability and long cable data transmission
Lower system costs