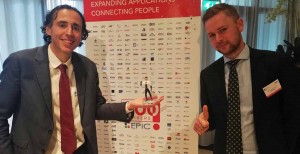 In this interview, Jose Pozo, EPIC's CTO, talks to Remigijus Šliupas, co-founder and CEO of Optoman, a company specialising in the development, design and manufacture of thin film coatings and laser optics
Early career
With a love of physics from his mid-teens, in 2005, Remigijus went to Vilniaus University, Lithuania to study a degree in Management of Modern Technologies. This was followed by a second degree in Physics at the University of Insubria in Italy, where he developed a passion for lasers.
In 2008, he began a Masters in Laser Technologies at Vilniaus University while also working as a sales engineer for Altechna, a leading company in the production of custom laser optics based in Lithuania. After graduating, he stayed with Altechna and, following promotion to Senior Sales engineer and then Regional Sales Manager (Europe), in 2016, he became Altechna's Chief Marketing and Quality Officer.
Working for Altechna was an invaluable experience as it enabled Remigijus to acquire and develop a range of business skills in areas such as people management, directing market research as well managing sales channels, partners, and alliances.
He was also responsible for developing new products for a range of technologies including laser optics, polarization optics, crystals and laser accessories such as beam expanders and motorized attenuators. As he says: "It was a fantastic experience. I was very much involved in everything that was going on, from planning sales strategies to product R&D. I worked with a great team with the aim of growing the company to the size it is now".
Optoman
Around 2016, because of the move to high power laser systems capable of functioning in harsh environments, laser system manufacturers began to demand much higher quality optical components, in increasing volumes. One of the most effective techniques for achieving higher quality optical components is Ion Beam Sputtering (IBS), which deposits precisely controlled layers of a desired material on top of a component by means of an ion beam. Layers of different materials can be stacked on top of one another to create precisely controlled optical interference coatings that can considerably enhance a component's durability, performance and reliability.
The problem for the market at that time was that although the big players could provide IBS technology, it wasn't part of their core services and they became overloaded. This created a huge unmet demand for IBS coatings, and it was this gap in supply that motivated Remigijus and Dr. Simonas KiÄas to set up Optoman in 2017.
The idea was simple: to cost-effectively design, develop and manufacture quality, thin film IBS coatings and laser optics for universities and laser system manufacturers worldwide. But IBS chambers are not cheap, and the decision go into manufacturing meant they would need considerable investment. Accordingly, they spent a year drawing up a business plan with a detailed analysis of the market, competitors, workforce requirements and potential customers. They then started pitching to investors and although It wasn't easy, they finally managed to raise what they needed to start up.
Company growth
In the last two years Optoman has grown from 3 to 9 employees and they took a part in projects with an aim to develop complex coatings for extreme power and ultrafast laser systems.
Technology
For Remigijus, Optoman success is based on the USPs of IBS technology. Although IBS has some drawbacks, for example, it has a lower deposition rates and smaller substrate volume per run in comparison with evaporation, IBS is still the best choice for demanding laser applications: Firstly, IBS is an inherently stable process. Secondly, IBS coatings are completely immune to mechanical wear as well as changes in ambient temperature and humidity and can be used in harsh environments with no change in performance. Thirdly, broadband optical monitoring together with on-the-fly reverse engineering equipment, ensures repeatability between different coating batches.
As Remigijus points out: "Customers don't care about the features of components themselves: what they care about is how our components can make their products better, so they want components to be as stable, durable and service free as possible".
Applications
Optoman core competence is in ultrafast DPSS laser applications with components that require high damage threshold features. While applications have been mainly in the industrial and scientific markets, the medical sector is emerging as a hot topic for the company, particularly for applications that require highly stable optical components.
The future
Manufacturing: In the near future, Optoman want to scale horizontally and are currently thinking about applying for a new round of investment to purchase a coating chamber. A decision on the type of chamber and size of target components will be made after they have spoken with their customers to get some insights into future demand.
Moving into higher volume markets: While the projected increase in lasers and laser systems represents a good opportunity for Optoman, the move into higher volumes will bring a number of challenges: Firstly, the fierce competition between component suppliers will drive down prices. This may make it difficult for Optoman to maintain its standards of quality and repeatability and thus call into question its status as a reliable supplier. Therefore, Optoman the first priority investments are towards solutions which allow to be an effective competitor in the supply chain. The company will have to find ways of standardising manufacture, particularly ultrafast optics, so that components can be fabricated as easily and cheaply as possible in large volumes.
If you could start again what would you do differently?
"In my career, I wouldn't change anything because I've been very lucky to be in the right places at the right times. If I started again, maybe I wouldn't be so lucky"
"In the early days, I made some mistakes being too enthusiastic chasing customers and ideas that didn't have any return. If I started again, I'd concentrate on finding reliable partners and customers and try to analyse situations more rationally".
"Also, if I'd started Optoman earlier it would certainly have grown faster and be stronger today. On the other hand, in terms of market demand, we started just at the right time as it coincided with a boom of laser manufacturers who were looking for quality rather than price".
What advice do you have for the next generation of entrepreneurs?
"First, if an idea pops into your head and you get excited, then sleep on it. If you still feel the same after you've talked it over with your partner and they support the idea, then go for it. Of course, you'll be taking risks, but you'll never regret your decision because you'll learn so much. I know a lot of people who wanted to start a business but didn't because of the fear of failure and then spent a long time regretting their decision".
"Second, in the early days, instead of getting bogged down with small things and micromanagement, spend as much time as possible with the team exchanging ideas about how you are going to build the business".
"Third, understanding your customers' needs is paramount. When you meet a potential customer don't talk about yourself and your USPs before knowing what the customer is looking for".
"Forth, get your company known: staying in the office, writing emails and making phone calls is not going to work if you want to grow fast. Get out into the field and meet people face to face. Go to industry conferences, meetings and workshops like the ones organised by EPIC, which have been really useful for us".
"Last, but definitely not least, do business on your own only - surround yourself with people you can trust with different skills from the very beginning. Get into agreement where are you moving towards with business and hit the road."
Written by Jose Pozo, Director of Technology and Innovation, EPIC