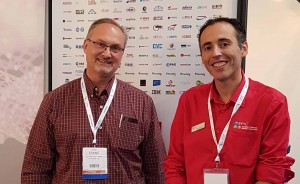 With nine motion control and system patents, over 28 published technical papers and a career stretching back to the mid 1980's, Daniel Evans gives an interesting US perspective on career development and growth strategies in photonics.
Career background
After earning a B.S. Degree in Mechanical Engineering from Purdue University in 1984, Daniel started his career as a design engineer at Hughes Aircraft (now Palomar Technologies) developing Palomar's digital servo control technologies. His passion for motion and servo control and a good grounding in control theory and robotics gained from a Mechanical Engineering MSc from Stanford University, led to a move into project engineering and system architecting in key technology and equipment development.
While at Hughes, Daniel participated in the company's Management Development Program and acquired a broad range of organizational skills. He later completed an Executive Program for Scientists and Engineers at the University of California, San Diego (EPSE) and gained a number of MBA-type management skills.
Daniel has worked in several different key positions in R&D and Engineering as a Design Engineer, Project Manager, Engineering Manager, VP of Engineering, and Applications Manager. During this period, he developed many of the core technologies fundamental to Palomar Technologies' automated equipment platforms. He is now Chief Technical Officer and his experience in equipment design, customer application, and industry & customer roadmaps led to his appointment as Chair of Palomar's New Product Development Committee.
Success factors
Daniel puts Palomar's and his own success down to the following:
A reputation as a world-class, quality supplier derived from decades of experience in delivering proven high accuracy die attach, wire bonding and vacuum reflow systems, along with a consulting and contract manufacturing/assembly services and field support.
An unwavering customer-focused philosophy that prioritizes identifying and satisfying customer's packaging and assembly needs.
The incorporation of modelling and architecting skills to breakdown packaging and assembly applications into fundamental parts. This allows determining the relationships between the material, process, and equipment and thus the ability to create vision and drive for continual improvements.
Building close collaborative relationships with customers and coordinating the innovation process to create photonics and other packaging solutions that maximize the customers' ROI.
Working with key customers and industry committees on road mapping activities
But perhaps the most important factor in Daniel's success has been his ability to recognise and embrace other people's talents, his awareness of the value of collaboration and his ability to learn, guide and teach through vision leadership. "Over my career, I have had the pleasure of working with many extremely talented people (leaders, peers, staff, suppliers, and customers) in a business with constantly evolving customer needs and technologies"
Another important factor is the business management training he received during the Executive Program for Scientists and Engineers at the University of California. From this program he acquired valuable management skills in business planning, financials, legal, HR and leadership, which gave him a well-rounded knowledge of the business process and enabled him to function effectively at an executive level within Hughes / Palomar.
This highlights an important difference between the US and Europe regarding the role of CTOs. In Europe, CTOs tend to focus almost exclusively on technology whereas in the US, CTO's are expected and encouraged to acquire business acumen to enable them to participate in a range of business and organisational decision making.
Some years ago, Daniel took time off from management to rekindle his passion for control theory and robotics, recharge and connect with the industry. He focused on developing wire bonding technologies, writing papers, and working with industry roadmap committees in iNEMI and ITRS. He considers this three-year sabbatical as being particularly important because it enabled him see photonics from the customers' perspective and develop a keen sense of what is important to customers.
What would you have done differently?
Daniel feels that working on industry committees has proved helpful in gaining a broader perspective of needs and in this regard, he would have done more networking with those in a similar role outside of the company.
In the same vein, he would have pushed earlier for greater collaboration and connection with customers, suppliers, and organizations at all levels of the company. "With technology moving so rapidly, collaboration is essential not only for keeping hold of all the moving pieces but also for leveraging each other's strengths".
What is your vision for your company?
"To continue to develop and implement effective and evolving technologies that enable our customers to be leaders in their markets".
Daniel added that over the years Palomar's customers have been in traditional aerospace/defence or telecommunications, along with RF/wireless. However, today they are seeing an increased customer demand for developing advanced photonics solutions, such as Datacom, Telecom, Lidar, 3D sensors, IR Cameras, and high power LEDs to name a few. Palomar has quickly adapted to this changing landscape is now providing help to photonics pioneers in their development, production launch and ramp up in the same way it has done so in the past.
As a case in point, Palomar recently launched a 6532HP ultra-high placement accuracy and high capacity die bonder, specifically designed to meet the rigorous demands for manufacturing photonics devices. This device is designed to provide high precision, high production and high performance and extends Palomar's design philosophy for flexibility by offering a variety of options for customization and optimization.
Daniel sees photonics assembly as ripe with opportunities for collaboration to develop customer product designs and heterogeneous assembly standards and associated equipment. To this end, Palomar has extended its engineering lab to be better able to enhance the productivity and accuracy of systems to meet customer needs.
What is your advice to young entrepreneurs?
Customer focus: Observe the way your customers work in their environment. Stay close and listen to the customer and what they consider value.
Understand the broad business context in which you are operating: Look outside the organization for ideas/concepts/approaches/collaboration partners.
Add value: Focus on creating more value than your competitors, where VALUE = BENEFIT - COST. Look upstream and downstream of where you are focusing to see if there are other ways you can add more value. Rather than trying to reinvent the wheel, try to fit the pieces together in different ways and create new value.
Don't be afraid to fail – but learn from it.
Prevention is better than cure: Help customers avoid problems rather than just solving their problems. "This may seem obvious, but we engineers can get focused on solving the problem at hand rather than finding a way to avoid the problem all together."
Don't always aim for perfection: Sometimes, good enough is good enough.
Recognize and protect key ideas.
Written by Jose Pozo, Director of Technology and Innovation at EPIC (European Photonics Industry Consortium).