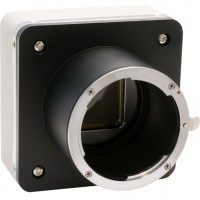 Adimec, a provider of application-specific industrial camera solutions, will demonstrate several new CoaXPress cameras, including a 50-megapixel Quad CXP camera, the Sapphire S-50A30, at the International Technical Exhibition (ITE) at Pacifico Yokohama in Yokohama City, Japan, from 6–8 December 2017.
The S-50A30 is a high-resolution, high-speed solution for semiconductor metrology, flat-panel display inspection systems or solar inspection tools.
For developers of multi-camera systems, such as side-view cameras for 3D metrology, the 5-megapixel, single-CXP N-5A100 camera offers reduced system complexity through its simplicity while increasing throughput.
Sapphire S-50A30 50-megapixel Quad CXP6
The S-50A30/CXP is the newest addition to Adimec's Sapphire series of global-shutter CMOS metrology cameras. All of the Sapphire cameras provide low-power implementation for ultra high-resolution, high-speed cameras.
Features
50 Megapixels (7920 x 6004) at 30 full-frames per second
AMS CMOSIS CMV50000 CMOS global shutter image sensor
Low-noise and high-sensitivity performance with uniformity
Adimec connect-and-grab up to 4 x CXP6, system setup within 24 hours
Lowest-power, fan-less implementation in a compact form factor
Price/performance ratio.
Adimec's CMOS cameras offer high speed, high resolution to measure ever smaller critical structures or defects with the increased accuracy and throughput required by in-line optical metrology systems.