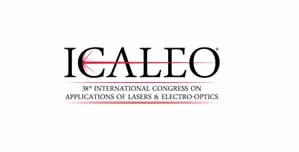 Laser industry professionals from academic and industrial settings will be meeting in Orlando, Florida for the 38th annual International Congress on Applications of Lasers & Electro-Optics (ICALEO) conference from Oct 7 –Oct 10, 2019. Organized by The Laser Institute (LIA), the revamped iteration on four industries: Aerospace, Biomedical, Microelectronics, and Automotive.
This year's ICALEO will introduce a new business conference that addresses laser end-users while presenting solutions to challenges that various manufacturing industries are experiencing. A complement to the technical conference and its workshops, the business conference will allow manufacturers, integrators, and suppliers to selectively engage in the discussion on the unique challenges and revolutionary applications for advanced laser materials processing.
Co-chairs Klaus Löffler of TRUMPF Laser- und Systemtechnik GmbH, and Dr. Henrikki Pantsar from TRUMPF Inc. describe the event as an opportunity to bridge manufacturing and applied research, as well as a platform to highlight laser providers with leading solutions. The exhibitors that attendees will have the opportunity to engage with during the Trade Show include TRUMPF, II-VI, NASA, IPG Photonics, Han's Laser, and more.
In addition to the trade show that will go on across the four days of the conference, conversations will also revolve around the business plenary addresses from the likes of Dr. Christoph Leyens. The Director of the Fraunhofer Institute for Material and Beam Technology in Dresden, Dr. Leyens will speak on the innovative aerospace and space structures made by additive manufacturing during the Aerospace Business Conference day on Oct 7. He will be joined by Dave Hudson, the President and CEO of Joining Industries and the head of three manufacturing subsidiaries that specialize in different categories of laser-based manufacturing. Mr. Hudson's presentation will revolve around the expanding use of industrial lasers in aerospace manufacturing.
During the Biomedical Business Conference day on Oct 8, Professor William Steen, the 'Father of Laser Materials Processing' and namesake of the inaugural William M. Steen Award will be in attendance to present his talk on the coming of the age of optical engineering. A plenary speech by Dr. Chris Bashur of Florida Institute of Technology will also enlighten the audience on the lasers and optics applications in regenerative medicine.
Dr. Markus Arendt, the President of SUSS MicroTec Photonic Systems, will then elaborate on the practicality of excimer laser ablation for high-density routing in advanced packaging during the Microelectronics Business Conference day on Oct 9.
On the next day, the University of Michigan's Dr. Jyoti Mazumder will present his plenary address "Laser Aided Manufacturing: Atom to Automobile" for the Automotive Business Conference day. Dr. Jason Carroll, the Global Technology Director for Materials and Manufacturing at Eaton, will follow with his thoughts on the bottom-up digital design for additive manufacturing.