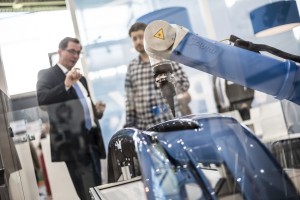 The 6th LASYS International Trade Fair for Laser Material Processing, with its clear focus on user orientation, has started in Stuttgart, Germany. In Hall 4, about 200 exhibitors from over 20 countries are showcasing intelligent system solutions, practical production processes, application fields and industrial trends and innovations for production of the future, including world and European premières. The event continues until 7 June. Experts regard the market situation as positive, promoting high customer proximity.
Visitors from several sectors of industry can glean information on the use of lasers in industrial production. There are many innovations to discover. For example, Trumpf launches a world première — the fibre-based solid-state laser TruFiber 2000. For the first time in Europe, MKS Instruments presents the new portable tester for the precise measurement of laser output and energy: Ophir Centauri; and FOBA Laser Marking + Engraving (Alltec) shows a software update that permits the camera-based alignment of markings for parts positioned in any orientation.
Market-oriented technology
In line with exhibitor presentations, the program offers trade visitors know-how transfer for every level of knowledge — from entry level to expert level. For example, the 10th Stuttgart Laser Technology Forum (Stuttgarter Lasertage), which takes place 5 and 6 June, brings to Stuttgart both highlights and innovations from industrial laser technology applications and laser experts and users from all over the world. Leading experts from market research and industry will also talk at the Stuttgart Laser Marketplace 6 June. A technical forum with a strong focus on practical applications will also take place in the exhibition hall on all three days of the exhibition.
The practical focus is supported by several workshops, seminars and an offer of consultancy free of charge in cooperation with institutes and research centers. This is also coupled with a campaign to recruit young talent by the German Engineering Federation (VDMA). Together with the VDI Technology Centre, the VDMA provides DIY exhibits on the topic of optics and photonics.
The importance of this orientation on practical processes and on users was explained in the expert talk round entitled "New perspectives are important, but in the present it's essential to focus on market-oriented technology with high customer benefits." Starting from market-based, customer-oriented technology development, Gerhard Hein confirmed the positive trends of the market. Gerhard Hein is director of the Working Committee Laser and Laser Systems and head of the Department for Economy and Statistics at the Trade Association for Machine Tools and Manufacturing Systems in the VDMA. For example in 2017, the production by member companies in Germany of laser production systems which are equipped with CO2 lasers, solid-state lasers and diode lasers grew by 6% to 931 million Euros. Orders received by laser system manufacturers in Germany in 2017 rose by 10% over the previous year to 1.3 billion Euros, after 3% growth in the previous year. From this he concluded, "The economic situation for LASYS this year is simply very good." A major contributory factor to this success is certainly the location of the trade fair within the catchment area of Baden-Württemberg. This region has an excellent industrial infrastructure, numerous industry-specific value-added chains beyond its borders as well as synergy effects from the parallel events.
Focus on customers
The exhibitors see the situation in a similar way. Dr Armin Renneisen, Vice President and General Manager, Industrial Lasers and Systems, Coherent | ROFIN, says, "It is our philosophy to always place the customer's application in the center and offer him the right laser solution. We will demonstrate this at the exhibition by means of several examples." The merger of Coherent and ROFIN provides the company with the broadest product portfolio on the market.
Dr Jörg Lässig, Managing Director of SITEC Industrietechnologie, explains, "Technologically we are growing horizontally. Diversification allows us to open up new fields and industry sectors together with their products. Our core themes are micromachining and welding copper."
Gerhard Hein summarizes: "So, the condition of the markets for laser-assisted material machining is buoyant — just as much as the mature industrial systems themselves."
Laser technology further strengthened
Laser technology also has a high significance in Hungary. "In 95% of cases, applications involve 2D laser cutting. But the great significance of the automotive industry is the current driving force behind the spread of 3D laser material processing systems. They are mainly used by car body construction suppliers," says Tünde Simon-Lutring who is responsible for market consulting at the German-Hungarian Chamber of Industry and Commerce. That is where the next event in the "LASYS meets ..." series takes place. Messe Stuttgart intends to use this series to further strengthen the topic of laser material processing at international level. "LASYS meets Central Europe" will take place at the Novotel City Hotel in Budapest on 29 November 2018.