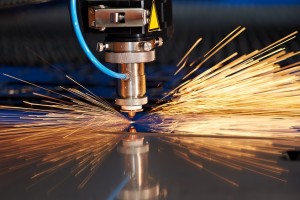 Fifty years ago, who would have thought that lasers would one day turn out to be a universal and indispensable tool for manufacturing industry? In addition to key tasks such as cutting and welding with a laser, processing of surfaces with many different shapes and materials is increasingly becoming the centre of attention. This will also be clearly demonstrated, for example, at LASYS 2018, International Trade Fair for Laser Material Processing. LASYS will open its doors for the sixth time in the exhibition halls at Messe Stuttgart from 5 to 7 June 2018. The trade fair will focus in a very practical way on the latest trends, innovative laser systems, laser production systems, laser processes and business services for laser material processing.
Laser surface processing becoming more important
A large number of laser processes have now been created that help to make surfaces truly mesmerising. These processes include, for example, structuring of car interior surfaces whose design therefore becomes elegant. Laser systems also clean weather-beaten stone façades, remove rust from iron components containing filigree ornaments, clean print rollers or tyre moulds, free components from grease layers as pretreatment for laser welding and enamel strip, polish or harden component surfaces. The LASYS exhibitor Acsys Lasertechnik has made a name for itself in the last few years with the development and production of laser processing systems for 3D engraving of freeform surfaces. For example, a laser processing system from Acsys was used to produce the coining die for the world's first spherical coin. "During 2.5D and 3D laser engraving, material is removed from the surface of the workpiece to the required depth using a software program. The material is vaporised layer by layer until the required structure gradually appears," explained Thilo von Grafenstein, Marketing Manager at Acsys.
High-precision 3D laser engravings with high time saving
The solution provider Acsys recommends, for example, its processing systems featuring the latest ultrashort pulse (USP) laser technology for surface structurings of injection moulds. These systems are used for high-precision laser structuring – even with extremely hard materials. Due to "cold material removal", the engraving remains almost melt-free and free of burrs, thus substantially reducing the time and expense for reprocessing. "We also develop our laser software in-house," said Grafenstein. "In terms of database connection, this software is continuously adapted to market demands and satisfies the requirements of Industry 4.0 production in every respect." During LASYS 2018 Acsys will show that the software can process 3D data such as Step files and therefore permits high-precision 3D engravings and surface structurings. Von Grafenstein emphasised: "The ultraprecision laser production systems therefore carry out work orders with high time savings. Since no tool wear occurs, the use of lasers also reduces costs in this case."
Laser structuring with fast cycles times and high precision
"Due to the great flexibility of lasers in regard to positioning and accuracy in the μ range, they are almost predestined for surface processing of different materials," said Dr. Jörg Lässig, Managing Director of Sitec Industrietechnologie. The highly innovative laser production systems from the LASYS exhibitor Sitec are used, for instance, for structuring and defined material removal of covering varnishes, e.g. on injector components, and for exposing contacting elements in the tolerance range of +/- 2 μm. A laser also ensures variable groove geometries when designing surfaces. "Thanks to an integrated high-resolution camera system, there is a good reaction to component tolerances. Fast cycle times coupled with high accuracy are important economical and quality-related advantages of surface treatment using a laser," said Dr. Lässig.
Gentle laser cleaning of moulds and tools
In the last few years laser systems have conquered another application area, i.e. cleaning. It is regarded as an environmentally-friendly alternative to conventional cleaning methods. Tough process residues such as rubber, silicone, soot, vulcanised residues, rust, oil and grease can be gently removed from moulds, components and tools using a laser. The advantage here is that the component material is not damaged chemically, mechanically or thermally because the laser works without touching the material. Utilised solid-state lasers, for example pulsed fibre laser systems, are characterised here by high efficiency, high beam quality and high performance. Operating and service costs can be reduced. Precise removal of material is therefore possible together with high throughput rates in a large number of applications.
Innovative: precision surfaces with carbon fibre-reinforced plastics through regulated laser ablation
Lasers are continually extending their range of applications with materials. For example, components made of carbon fibre-reinforced plastics (CFRP) are important for modern lightweight construction both in car and aircraft manufacturing. "CFRP components are very expensive on account of their manufacturing method. It is therefore often worthwhile to repair these components if they are damaged or have manufacturing defects," said Dr. Rudolf Weber, Head of Process Development at the Institute for Abrasive Blasting (IFSW) at Stuttgart University. According to Dr. Weber, one option is to remove the defective area and stick it back on again using an adapted "patch". Dr. Weber added: "Ultrashort pulse lasers are being used successfully at the IFSW to remove damaged areas. Since the exact removal depth is measured during material removal, the laser can generate high-precision, accurately layered stages around the damage. They act as an ideal precondition for the subsequent bonding process." The precision of material removal can be regulated either based on a computer-generated grey scale image or according to the arrangement of the fibres that can be defined in the process. "Producing these kinds of precision surfaces using the regulated short pulse laser material removal process is absolutely innovative and is also being used at present at the IFSW for the first time in surface processing of metals," said Dr. Weber. The 2018 Stuttgart Laser Technology Forum (SLT), which will be held concurrently with LASYS and is being organised by the IFSW, will shed light on this exciting topic.
LASYS 2018 with high innovative capacity
"The challenge here is to systematically address with far-sightedness the market requirements relating to innovative laser processing systems, develop them further and implement them with series maturity in process-reliable and service-oriented laser production systems," summarised Dr. Lässig from Sitec with an eye on the future. The fact that the around 200 expected exhibitors at LASYS 2018 are coping very well with this challenge is demonstrated by their high innovative capacity and the keen interest shown by visitors in the unique trade fair for laser material processing. Messe Stuttgart is expecting around 6,000 visitors at LASYS 2018.
LASYS takes place at the Stuttgart trade fair centre from 5 to 7 June 2018.