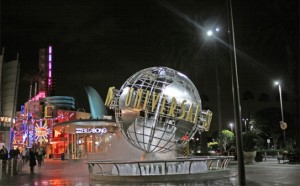 Cireon, an LED systems manufacturing company, announced that the company completed a major outdoor lighting project for Universal CityWalk Hollywood at Universal Studios, Hollywood, California (US).
Completed in conjunction with Tako Tyko, Signs & Lighting of Los Angeles, the parking lot project encompassed 600 parking spots and a footprint of more than 70,000 square feet. The project included 75 Cascade 145-watt fixtures, replacing 290-watt metal halide fixtures
Built in 1993 as one of the region's first Urban Entertainment Centers, Universal CityWalk Hollywood is a three-block entertainment, dining and shopping promenade. Patrons can visit more than 30 restaurants, a 19-screen movie theatre, seven entertainment venues including the Jon Lovitz Comedy Club, indoor skydiving and dozens of retail locations.