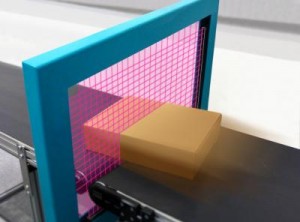 Image processing is one of the key technologies in automation and digitization. With the focus on dimensioning, classification and sorting intelligence, imaging specialist Framos will exhibit its range of logistics technologies and products in hall 3 / booth A08 at the LogiMAT trade fair in Stuttgart, Germany,13–15 March. Framos will showcase a new generation of cognitive systems powered by Intel's RealSense Technology demonstrating various logistics applications.
The Intel RealSense Technology ads human-like sensing and intelligence to devices and machines. The technology enables a complete new generation of logistics applications in the growing fields of drones, robots, virtual and augmented reality, mobile products and other segments. Framos will showcase the Intel RealSense Technology at its booth. Vision experts are available to discuss innovative solutions for any industry or application.
The Framos volume light grid (VLG) and the Framos Static Dimensioner (FSD) will both take center stage at the Framos booth A08 in hall 3. These plug & play products will demonstrate first-hand how any goods can be reliably measured and tested for dimensions, positioning, volume and weight or codes directly in the conveying process or at the receipt. The Framos VLG and FSD are suitable for master data acquisition, fully automatic picking, completeness or surplus stock checks, as well as cargo handling, and can be integrated into ERP, PLC and other logistics systems for further processing.