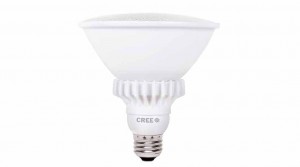 Many of the big name lighting manufacturers have LED bulbs on the market that boast a 50,000 hour lifetime. Bulbs in the residential sector are turned on for an average of two hours per day - at a 50,000 hour lifetime this means that a bulb could potentially last 68 years. An IHS Research Note points out that this may be great for the consumer but is it really all that great for the manufacturer?
Longer lifetime bulbs are already having an impact on the installed base. The residential installed base isn't growing that fast (IHS predicts an average of 1.17% growth in the residential bulb installed base) and so the majority of sales and revenue will come from the replacement market as IHS assumes consumers in the residential sector will reactively replace their bulbs (i.e., when they burn out) as opposed to actively replacing them.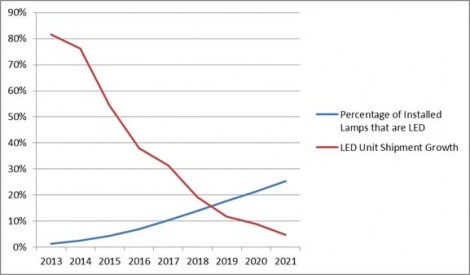 The dilemma is that once a consumer replaces all their light bulbs with LED bulbs, they won't need to buy another one for as long as 68 years. Sales will inevitably start to fall as LEDs begin to fill the installed base due to socket saturation. Given a global residential installed base of 38 to 40 billion units, and a lifetime of 50,000 hours this would mean lamp shipments would fall to 550 to 600 million units, which is significantly below the level that is currently shipping today.
Given a future average price of less than $5 a bulb, this could limit the residential lamp market to under $3 billion a year. IHS used a more conservative lifetime estimate of 25,000 hours for an LED bulb, and it is clear to see that as the adoption in the installed base increases, the unit shipments begin to slow down.
The Research Note by Stewart Shinkwin, Market Analyst at IHS, recommends the following solutions:
Drastically reduce the price so that more people will choose LED bulbs and hopefully begin to actively replace the bulbs (replace before burnout).
Decrease the lifetimes of the bulbs so that burnout and replacement happens more frequently (although companies would risk losing to competitors boasting the longer lifetimes).
Increase the functionality and features of LED lighting to warrant the higher prices and spur adoption – we have already begun to see this with the connected 'smart' lighting systems.
At Light + Building 2014 there were many new product releases from big name companies that indicated a trend toward option number three: the idea of connected lighting. If consumers adopt smart lighting technologies in their homes, there is also a possibility that they would want to upgrade to the latest technology, actively replacing working lamps and thus keeping shipments up.