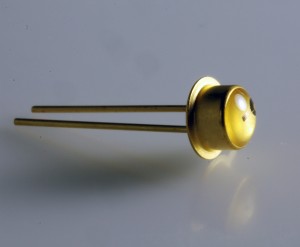 Marktech Optoelectronics, Inc., a privately-held, VOSB-certified leading designer and manufacturer of standard and custom optoelectronics components and assemblies, including UV, visible (VIS), near-infrared (NIR), and short-wave infrared (SWIR) emitters, detectors, InP epiwafers and other materials, today announced the global market introduction of the Model MTE6063M-UHR, a new family of visible red LED emitters, designed to provide high-accuracy, high-reliability sensing within a variety of applications.
Marktech Model MTE6063M-UHR visible red LED emitters offer high output power, typically 27.5 mW, along with a wide radiation pattern, and a peak emission wavelength of 630 nm. Each emitter is packaged within a TO-18 metal can with drip lens encapsulation, with the anode electrically connected to the case. Units are lead-free and RoHS compliant. Small-to-medium-sized volumes of standard Model MTE6063M-UHR visible red LED emitters are available with 24-hour shipment from stock via Marktech distribution partner, Digi-Key Electronics. In addition, alternate package and sorting options, as well as custom and hybrid designs, may be produced in as few as 6-8 weeks from the point of customer prototype approval. Please consult Marktech's Latham, New York-based R&D team for applications assistance.
Typical applications for Model MTE6063M-UHR visible red LED emitters include optical sensing, optical instrumentation, linear and rotary encoders, machine vision and CCD, photointerrupters, light curtains and sensor technology. In addition, depending upon required peak emission wavelength, standard Model MTE6063M-UHR visible red LED emitters may be used as direct drop-in replacements for end-of-life industry GaAsP, AlGaAs or InGaAlP visible LED emitters of identical dimensional footprint.
Founded in 1985, Marktech Optoelectronics is an optoelectronics engineering, design, manufacturing, and test facility, Marktech's unique core competencies are rooted in its proven capabilities to produce custom LEDs, detector components and assemblies in virtually any-sized quantity. Each Marktech product is designed and manufactured to customer exacting standards and is available with competitive lead times. The company's engineering team also has the necessary full in-house capabilities to perform complete electrical and optical characteristics testing, as well as end-to-end examinations of all optical components, from die level to finished product designs. Marktech is also a Cree Solution Provider for high-brightness LEDs and materials.