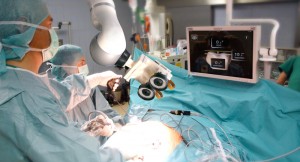 Framos Imaging Systems has developed a real-time capable Optical Tracking System (OTS), which provides precise information on the positioning of objects in three-dimensional space and settings and that sets new standards in accuracy, measurement stability and use. At the international trade fair for medical technology MEDICA, from 16 to 19 November in Dusseldorf Framos provides the OTS for medical applications and presents the technology at the Medical Health IT Forum in detail.

Imaging techniques are an essential part of everyday medical life, especially in diagnostics, yet many of the established techniques (e.g. conventional ultrasound) continue to demand a high degree of experience on the part of the physicians and their interpretation of the displayed data. Adding a further dimension to the diagnostic technology or merging data from different imaging techniques can make the everyday diagnostic activities of physicians simpler and more reliable, this is made possible with the OTS technology developed by Framos.

The development team led by Dr. Simon Che'Rose provides medical companies a technology by which any surgical tools and diagnostic sensors can be tracked with high precision. The treating physicians can continue to use these techniques as normal whilst at the same time have more extensive diagnostic data at their disposal. The OTS technology can be used in a variety of medical problems: for example, three-dimensional imaging with conventional 2D ultrasound, Sensor Fusion or navigation in the operating theatre. In principle, the OTS technology can be used for all problems in which the position and orientation of objects in space have to be determined with precision.

On the Medical Health IT Forum the OTS technology, developed by the Framos Systems Team and its use in clinical practice will be presented by M.Sc. Benjamin Busam. He will explain how the system works independently of surface features and how it can be adapted to the specific medical conditions, measuring volumes and accuracy. Furthermore, Busam will enlarge in particular on the benefits of OTS technology in comparison to conventional used methods, such as continuous measurement reliability, intuitive use and flexible scalability for specific medical applications.

Framos shows the Optical Tracking System at the MEDICA in Dusseldorf at the joint stand of Bayern Innovativ in Hall 3 Stand E38. M.Sc. Benjamin Busam, Framos Imaging Systems, presents on 19 November at 1 p.m. on the Medical Health IT Forum in Hall 15th.