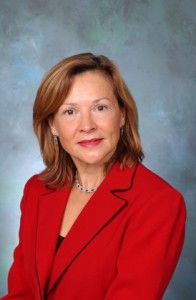 Rice University has named nanotechnology pioneer Naomi Halas director of the Richard E. Smalley Institute for Nanoscale Science and Technology.
Halas, one of Rice's most cited and renowned researchers, said she plans to expand the institute's scope, engage more faculty and students and foster new collaborations at the frontiers of science.
Halas, one of the foremost experts in nanophotonics, is Rice's Stanley C. Moore Professor in Electrical and Computer Engineering and a professor of biomedical engineering, chemistry and physics and astronomy. She is the director of the Rice Quantum Institute (RQI) and is the first person in the university's history to be elected to both the National Academy of Sciences and the National Academy of Engineering for research done at Rice.
Halas succeeds Dan Mittleman, professor of electrical and computer engineering, who has been serving as interim director of the institute since 2012.
In Nobel Prize winner Smalley's footsteps
Halas was recruited to Rice by Smalley Institute namesake Rick Smalley. She said it is an honor to direct the interdisciplinary research institutes Smalley founded at Rice. Smalley shared the 1996 Nobel Prize in Chemistry with Rice University Professor Emeritus Robert Curl and Florida State University Professor Harold Kroto for the discovery of carbon fullerenes at Rice in 1985.
Halas said Rice Quantum Institute and the Smalley Institute serve essentially the same broad community of fundamental and applied physical sciences at Rice, with a focus on emerging materials, their properties and applications. She said there are many new opportunities for new initiatives and for coordinated programs with common goals. She also said the institutes' directions and activities will be driven by their faculty membership.
Halas said one of the most important things that the Rice Quantum Institute has established is its annual research colloquium and that other institutes at Rice serve as a great example for what she envisions for RQI and the Smalley Institute.
To foster pioneering research, Halas said she plans to expand the scope of the Smalley Institute's efforts.
Halas joined Rice's faculty in 1990. Her lab specializes in studying how light interacts with engineered nanoparticles. Her research spans a broad spectrum from electromagnetic theory to chemical nanofabrication. She and her colleagues have created and studied dozens of new varieties of nanoparticles that are engineered to interact with light in specific ways, often to perform a function in unique applications that have societal and technological impact, including cancer treatment, sanitation, water purification and optoelectronics.
She is a member of the American Academy of Arts and Sciences and a fellow of the American Association for the Advancement of Science, the Materials Research Society, the Optical Society, the American Physical Society, the International Society for Optical Engineering and the Institute for Electrical and Electronics Engineers.