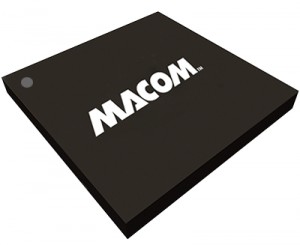 Macom Technology Solutions will debut a newly expanded portfolio of optoelectronics and photonic solutions at OFC 2017, 21–23 March, in Booth #1736.
MACOM's portfolio of products is addressing the high-performance analog interfaces between electrical and optical domains and providing solutions to meet the size, power and signal integrity requirements of today's high-speed networks—which are expanding to meet the continuously growing demand for data capacity.
Leveraging experience in optical networking along with a combination of semiconductor technologies, MACOM creates solutions supporting Cloud Data Center, client access and metro and long haul applications. Their portfolio includes high-performance modulator drivers, transimpedance amplifiers, clock/data recovery circuits – including their recent Lightwave Innovation Award-winning MATA-37644 and MALD-37645 chipset – and crosspoints, APD, PIN photodiodes, FP and DFB lasers, silicon photonics, 53 Gbaud PAM-4 PHYs, and ROSAs and TOSAs for enterprise and telecom optical systems operating up to 100 G, 400 G and beyond.
Product demonstrations at OFC this year include:
OSA Solution for 100 G CWDM4
PAM-4 L-PIC Transmitter
100 G PAM-4 53 GBaud PHY with Driver and TIA
64 GBaud Quad Linear Modulator Driver
SFP28 Long Reach Chipset.
Demonstrations will be on display by appointment only in MACOM's booth #1736.
Members of MACOM's product management, engineering and applications teams will be available to answer inquiries or questions at the show.
Listen to MACOM experts present
III-V + Silicon: To Integrate or to Co-package?
MACOM's Rich Grzybowski to serve as a panelist, discussing the prospects and challenges of heterogeneous integration in silicon photonics.
Sunday, 19 March 3:30 – 6:30 PM, Room # 408B
Overcoming the Challenges in Large-Scale Integrated Photonics
MACOM's Roe Hemenway to address market opportunities for integrated photonic modules in data centers and other traditional application spaces.
Monday, 20 March 1:30 – 3:50 / 4:00 – 6:00 PM
Fireside Chat: Growth & Profitability in Optical Networking — Boom and Bust or Sustainable?
MACOM's Preet Virk to participate in this OSA Executive Forum Panel that will address growth and profitability in Optical Networking
Monday, 20 March, 4:30 – 5:45 PM
Component Suppliers' Vision
MACOM's Bart Zeydel will participate in this OIF Workshop addressing potential electrical link and interconnect technologies being developed to support serial data rates of 100 Gb/s and higher.
Thursday, 23 March, 3:00 – 6:00 PM.