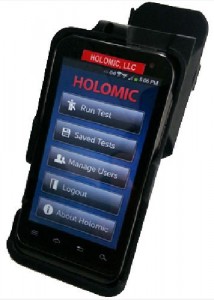 ThyroMetrix USA, Inc., a clinical thyroid testing company, has partnered with Holomic, LLC, specialists in photonics-based technologies for mobile health applications. for the Holomic Rapid Diagnostic Reader (HRDR-200) for smartphones.
The HRDR-200 works in sync with ThyroTest, a Thyroid Stimulating Hormone (TSH) blood test available in the U.S. and Canada by ThyroMetrix. Point-of-care offices will be able to increase revenue by offering instant, low cost, in-office lab results normally performed and billed by off-premise lab services.
ThyroTest, an FDA regulated and CLIA-waived rapid immunoassay test, was developed for in-office thyroid diagnosing using a single drop of blood on a small test card. When coupled with the new HRDR-200 the result is an inexpensive, robust and very portable TSH testing "Smartphone Lab". This technology provides fast test results with the same accuracy as popular lab testing systems, allowing medical professionals to immediately diagnose and start treatment of thyroid disorders.
It works by placing a drop of blood on the ThyroTest card and insert it into the HRDR-200, which is attached to the existing camera unit of a smartphone. The test card is then imaged under LED-based illumination in a special optical interface. Captured raw images are digitally processed through a smartphone application to reveal test results immediately.
Holomic, LLC is a finalist in the Nokia Sensing XCHALLENGE, a global competition that identifies breakthroughs in health sensing technology. ThyroMetrix is supporting their entry in the competition by providing testing services through their ThyroScore program of which Holomic is a sponsor. Following successful trials and FDA approval, Holomic's innovative technology will be incorporated into the ThyroMetrix Diagnostic System for rapid point-of-care testing.