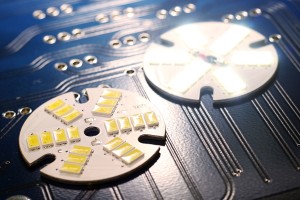 Lumex announces the global launch of its TitanBrite High-Voltage, Low-Current LED, the newest addition to the TitanBrite family of high-power LEDs. Lumex is exhibiting in booth 5027 at Photonics West this week in San Francisco, California (US).
The TitanBrite High-Voltage, Low-Current LED can run at a higher voltage with a lower current than alternative technologies (such as a traditional10W LED) while providing up to 45% brighter light output and superior light distribution, the company reports. This allows for up to 20% cost and 50% real estate savings for applications requiring low current, but high light output.
Though high-voltage, low-current LEDs provide key performance benefits for applications that use LED drivers that offer higher voltages to drive a high-power LED, few design engineers are aware that these technologies are available and can produce the comparable if not brighter light output.
Because a high-voltage LED (33 volts and up) runs at a lower current, it doesn't conduct as much heat, simplifying heat dissipation design considerations and ensuring less energy loss in heat generation and control. The need for bulky heat sync elements is eliminated as the high-voltage LED has a built-in metal core PCB and doesn´t require additional heat sync components. This results in real estate savings of up to 50% as well as up to 20% cost savings, Lumex reports.
Power conservation & safety
The current level of an LED is a primary concern because power must be conserved, particularly for power-intensive applications. A low-current unit is also less hazardous than a high current one
Visual performance
Light Distribution
This low-current LED design also offers greater light distribution than traditional standard LEDs that provide light in concentrated area or "hot spot". A cluster of LEDs offer a viewing angle of 120˚, eliminating hot spot issues.
Brightness
The TitanBrite High-Voltage, Low-Current LED also offers up to 45% brighter light output than a traditional 10W LED. With almost double the amount of light in a single unit, the cluster array of LEDs are placed in a unique pattern, that allows the design to achieve this output.
Lumex´s new TitanBrite High-Voltage, Low-Current LEDs measure 38mm in diameter and feature a 120° viewing angle. They are available in standard cool and warm white as well as custom colors. The technology is competitively priced at $10-15 per unit in production volumes, with lead times of 10 to 12 weeks.