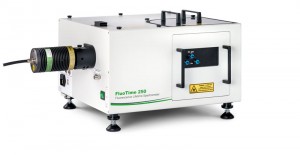 During its 16th course on the "Principles and Applications of Time-resolved Fluorescence Spectroscopy" held in Berlin from 5–8 November 2018, PicoQuant presented the FluoTime 250 to the 40 attendees and invited lecturers.
The design of the FluoTime 250 provides access to the world of time-resolved luminescence spectroscopy in a compact, fully automated device. A series of comprehensive software wizards facilitate complex measurements, such as fluorescence decays or time-resolved anisotropy studies, in a very short time. Advanced users get full access to all instrument capabilities via a point-and-click interface or integrated scripting language.
By adding an optional monochromator, the FluoTime 250 can also measure time-resolved emission spectra (TRES).