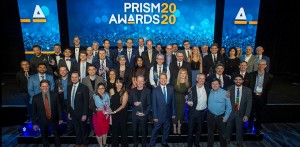 On February 5, the Prism Awards, held last night at Photonics West in San Francisco, honored the best new optics and photonics products on the market.
At the 12th annual ceremony showcased emerging companies that won in each of their respective categories, besting some of the more established semi-finalists. From WaveOptics and Pendar Technologies, to Innolume and PhotoniCare - the 2018 SPIE Startup Challenge champion - all of the winners are creating and innovating photonics-driven technologies, finding solutions in rapidly evolving areas such as healthcare, transportation, communication, and security.
Each year, the Prism Awards reflect the exponential growth, exciting developments, and rich technical innovations across photonics and photonics-enabled industries. For consideration of this year's Prism Awards, SPIE received 105 applications from 18 countries. Finalists and winners were selected by a panel of international judges that includes leaders from both the technology commercialization and funding sectors.
The distinguished presenters of the Prism Awards included an expansive range of industry leaders: Fraunhofer Director Constantin L. Häfner; President and CEO of Spectrum Scientific Daphnie Chakran; PI Vice President and General Manager Dave Rego; QuantIC Programme Manager Sara Diegoli; JENOPTIK President and CEO Stefan Traeger; Thorlabs Crystalline Solutions Technology Manager Garrett Cole; Photon Fund Partner Zhenlin Li; FEMTOprint CEO and President Nicoletta Casanova; and Partner Optical Architect at Microsoft HoloLens Bernard Kress.
Below, is the complete list of the award categories, the winners, and their winning products:
• Communication: Innolume, CW Datacom Laser
• Energy: Prisma Photonics, PrismaSense
• Healthcare: PhotoniCare, TOMi Scope
• Life Sciences: TERA-print, TERA-Fab E Series
• Manufacturing: Inspekto, Inspekto S70
• Quality Control: CloudMinds, Smart MEMs Handheld Raman XI2
• Safety & Security: Pendar Technologies, Pendar X10
• Transportation: Outsight, 3D Semantic Camera
• Vision Technology: WaveOptics, Waveguides