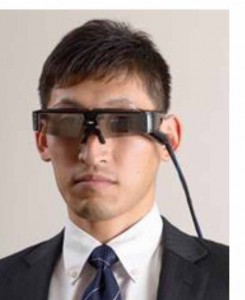 QD Laser, Inc. and the Institute for Nano Quantum Information Electronics at the University of Tokyo announced the prototype of the retina imaging laser eyewear for low vision care.
The team is starting its verification test as low vision aids in collaboration with the department of ophthalmology in medical universities and with educational institutions in Japan. The current plan is to commercialize the low vision oriented retina imaging laser eyewear by March 2016.
This prototype is to be exhibited in the 30th Annual International Technology and Persons with Disabilities Conference, which will be held in San Diego, California (US), from 4 to 6 March 2015 at the Manchester Grand Hyatt Hotel.
The laser eyewear has a miniature laser projector on the glasses frame that provides the wearer with digital image information using the retina as a scree. Remarkable characteristics, not achieved by other devices using liquid crystal displays (LCDs), are as follows: 1. Wide viewing with a small device owing to the projection principle. 2. High brightness, high color reproducibility and energy reduction owing to semiconductor lasers as RGB light sources. 3. Image viewing at any position of the retina. 4. Focus free - meaning picture clarity is independent of the individual's visual power. 5. All optics to be installed inside the glasses owing to the "focus free" characteristics. The glasses appear to be normal.
The laser eyewear has received great responses not only from the non-handicapped but also from the people with low-vision over the past seven exhibitions in Tokyo, i.e., "focus free" could help low vision people see a clear digital picture for the first time.