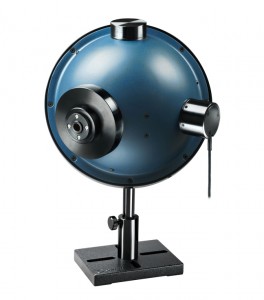 MKS Instruments, Inc., a global provider of technologies that enable advanced processes and improve productivity, has announced at SPIE Photonics West the Ophir IS6D integrating spheres for measuring the optical power of widely divergent laser diode sources, such as VCSELs. Part of the Ophir Integrating Spheres series of products, the new spheres can accurately measure light that diverges up to ±85 degrees. Each sphere is delivered as a calibrated unit with a photodiode detector.
The IS6D-VIS/UV/IR measures powers from 300nW to 30W over wavelengths from 200nm to 1800nm. It has a 1-inch (25mm) input port designed to collect light at angles up to ±60 degrees.
The IS6D-IR-170 measures powers from 20µW to 30W over wavelengths from 700nm to 1800nm. It features a specially designed gold-coated 8 mm input port that collects light at angles up to ±85 degrees.
Both integrating spheres can be fitted with detachable apertures of 5, 7, or 10mm diameters to restrict the entrance of the integrating sphere to a particular light source; this reduces unwanted effects from the PCBs or carriers on which the light source is mounted. The apertures are magnetically attached to the port, making them easy to attach and detach. Each aperture is also coated with a special low reflectivity coating that prevents changes to the calibration of the integrating sphere.