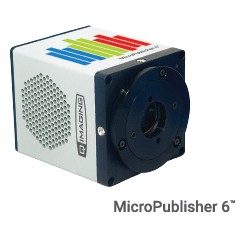 QImaging, a manufacturer of scientific cameras for life science and OEM applications, has released the MicroPublisher 6 camera, a new color image solution for documentation and publication. The camera delivers high-resolution documentation images with a large field of view and accurate color representation. Available upon request, customers will also receive QImaging's Ocular scientific image acquisition software, which provides tools for microscopy and imaging.
The MicroPublisher 6 delivers six million 4.54 micron pixels for maximum detail capture with low-powered objectives, such as 10, 20 and 40 times magnification. The camera's 16-mm diagonal sensor provides twice the field of view of standard color sensors, giving scientists the ability to capture more of the sample area in each image. The camera also incorporates low-read-noise electronics and cooling to remove hot pixels and dark current, making it a suitable imaging option for high-quality fluorescence documentation.
Initially released with the Retiga R Series cameras, Ocular was built from the ground up as a reliable part of daily research tasks. The software provides a familiar and intuitive user experience and the most current version 1.1 provides movie modes and saving functions.