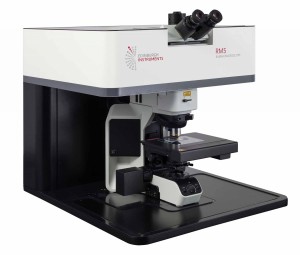 Edinburgh Instruments has recently announced the launch of the new RM5 Raman Microscope to be manufactured in Scotland at their European headquarters manufacturing base and research and development centre.
A compact and fully automated Raman Microscope, the RM5 is suitable for analytical and research purposes. The truly confocal design of the RM5 is unique to the market and offers uncompromised spectral resolution, spatial resolution and sensitivity.
It builds on the expertise of robust and proven building blocks, combined with modern optical design considerations with a focus on function, precision and speed. The result is a modern Raman microscope that stands alone in both specifications and ease of use.
Key Features:
Truly Confocal
Integrated Narrowband Raman Lasers
5-Position Grating Turret
Integrated Detectors
Internal Standards and Auto-Calibration
4-Position Raman Filter Turret
Ramacle Software
High Performance Microscope
Edinburgh Instruments is a specialist in the research, development and manufacturing of state-of-the-art spectroscopic instrumentation for over 40 years. Edinburgh Instruments primarily designs and manufactures bespoke spectroscopic systems for measuring: steady state fluorescence, fluorescence lifetime, phosphorescence lifetime and transient absorption.
Edinburgh Instruments was formed in 1971 as the first spin-out from Heriot-Watt University and the first private company on Britain's first University "Research Park". Edinburgh Instruments (EI) is now located in purpose built facilities just outside Edinburgh, where it employs over 100 people.
EI has an extensive global distribution network and has a highly prized reputation for the delivery of high quality, accurate instrumentation together with one to one customer service support.
In February 2013 Edinburgh Instruments Ltd was acquired by Techcomp Europe Group Ltd.