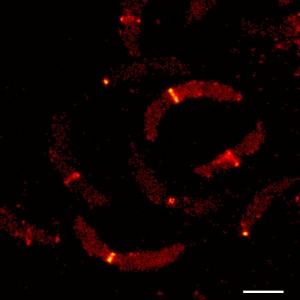 New microscopy tools are revealing biological details at higher resolutions and in more dimensions. For example, Seamus Holden, Ph.D., and researchers at École Polytechnique Fédérale de Lausanne (EPFL) published a recent study in which they created method to automate photoactivated localization microscopy (PALM) to obtain 3D images of hundreds of bacteria during all stages of the cell cycle at a resolution of approximately 35 nm.
For traditional PALM, proteins of interest are labeled with photoswitchable tags. Resolutions higher than the diffraction limit of light are possible because a few tags are activated, imaged and then deactivated, and the process repeated for different group of tags until a complete picture is formed. The researchers wanted to record PALM images of dividing bacteria throughout their entire 3 hour cell-division cycle, but photobleaching and phototoxicity make this impossible to accomplish using a single cell. So instead of a single cell, the researchers used automated PALM to image a group of bacterial cells synchronized to all move through the stages of cell division at the same time.
Holden explains that automated PALM was possible because of an algorithm they developed to prevent overlapping fluorescence by controlling the density of bright molecules. "This very simple algorithm is robust to large density variations, and is very fast, which will be important for scaling up to large field of view fast sCMOS cameras," Holden says. "We wired this to control the photoactivation laser in closed loop mode, to keep the density at a target level."
The imaging setup included a Nikon oil immersion objective lens and a Photometrics EMCCD camera. Fluorescence was excited at 560 nm with a MPB 300 mW visible fiber laser, and photoactivation induced at 405 nm with a Coherent OBIS laser at ~ 0-16 W/ cm2. They obtained 3D images using astigmatic imaging by placing a 1 m focal length cylindrical lens from Thorlabs Inc. in front of the image plane.
The automation also required the researchers to eliminate the correction of optical drift. "We built the microscope to be passively stable down to the resolution of the measurements (~35 nm), so that we did not need to correct drift," Holden explains. "This involved building a stripped down, super-stable microscope, including placing the objective in a fixed mount rather than on a z-turret, and using an enclosure to eliminate convection currents and stabilize the temperature."
This new information could be used to develop antibiotics that better target FtsZ.
During bacterial cell division a protein called FtsZ forms a ring around the cell that constricts to split it into two daughter cells. The automated PALM analysis showed that instead of forming a continuous ring, FtsZ appeared to form a "patchy mid-cell band" for the majority of the cell cycle. The ring formed only toward the end of the process and in a minority of observed cells. This new information could be used to develop antibiotics that better target FtsZ.
Multiple resolutions in 3D
Kevin Welsher, Ph.D., and Haw Yang, Ph.D., from Princeton University in New Jersey (US) developed a 3D multi-resolution microscopy method that combines high-speed single-point detection of a single probe with the large-scale context of two-photon laser-scanning microscopy. As published in a recent paper, they used this method to learn more about how cells take up nanoparticles that are similar in size to viruses.
The researchers explain that the behaviour of a viral-scale particle near the cell surface can dictate if the nanoparticle attaches to the cell and eventually invades. "By evaluating the viral-scale particle dynamics as it approaches the cell surface, we can gain insight into the critical particle-membrane interactions which lead to the early events in cellular uptake," said Welsher.
Because the viral-scale particles move with a diffusion coefficient up to 5 microns squared per second, 3D target-locking was required to maintain the microscope's focus on the particle as it moved through different planes. A two-photon laser scanning microscope also imaged those optical sections, but at a lower resolution, to build a full 3D picture. The researchers built the target-lock setup into the side port of a laser scanning microscope from LSM Tech. It detected small deviations in a particle's X-Y position with prism mirrors that split the signal onto two single photo counting avalanche photodiodes from Perkin Elmer. Changes in Z position were detected with an offset pinhole imaged onto an avalanche photodiode. This information was used to move a 3D piezoelectric stage from Mad City Labs to counteract the particle's motion.
Achieving 3D multi-resolution microscopy was challenging on several fronts. It was important to have little or no cross talk between the two-photon scanning microscopy and the point detection of the particle, to avoid data corruption. Also, synchronization of the two pieces of technology required seamless integration on both the hardware and the software levels.
Ultimately, this instrument can be applied directly to real viral systems to see the very first steps in viral infection…
The new microscopy method allowed the researchers to directly measure the approach and landing of particles on the complex surface of a cell. "Ultimately, this instrument can be applied directly to real viral systems to see the very first steps in viral infection and how they are affected by the cellular milieu," Yang says.
This 3D movie shows a virus-like particle (red dot) approaching a cell (green with reddish brown nucleus). The color of the particle represents its speed, with red indicating rapid movement and blue indicating slower movement. The virus-like particle lands on the surface of the cell, appears to try to enter it, and then takes off again. Source: Nature Nanotechnology.
Photo Caption: The patchy mid-cell organization of bacterial cell division protein FtsZ is resolved with nanoscale precision using super-resolution fluorescence microscopy. Scale bar 1um.
Written by Nancy Lamontagne, Contributing Editor, Novus Light Technologies Today