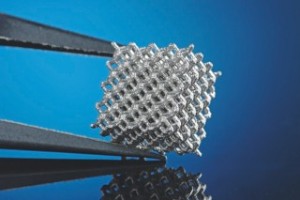 A special processing technique now allows Selective Laser Melting (SLM) to be used with more difficult materials such as magnesium alloys, copper alloys, and other crack-prone, difficult-to-weld metals. The use of these materials makes it possible to employ the SLM process in new application areas. Several examples will be presented in a lecture session at the International Laser Technology Congress AKL'16 and the accompanying "Laser Technology Live" event at the Fraunhofer Institute for Laser Technology ILT.10x10x7.5 mm³ with a strut thickness of approx. 400 µm.
Selective laser melting with "normal" materials such as stainless steel, aluminum or titanium alloys has already come of age in the world of production. The materials and processes have been extensively researched, and the related machinery is available from a number of vendors. Things only get difficult when attempting to work with other materials such as Magnesium. It is not only 30% lighter than aluminum, but it can also be used to produce resorbable implants, thus making it extremely desirable for use in lightweight construction and medical technology applications.
Experts at Fraunhofer ILT have developed a processing technique that now makes it possible to work difficult materials using SLM. To combat heavy smoke formation, a new process chamber featuring optimized shielding gas flow was developed in cooperation with ILT spinoff Aconity3D for use with magnesium alloys. In addition, processes for use with copper alloys were optimized, as were special systems with high-temperature preheating for use with crack-prone and difficult-to-weld metals.
SLM allows for bioresorbable magnesium alloy implants
Desirable features of implants, such as tailored designs and complex structures, can be produced at no extra expense using SLM. As a material, magnesium offers the added advantage of being resorbable by the human body. Implants based on solid magnesium materials are already in use, but further benefits are promised for implants with pore structure.
The idea here is that new bony material will grow into the implant, while at the same time the metallic material is resorbed by the body. Fraunhofer ILT has developed an SLM process for magnesium alloy implants of this type, in which both the exact shape and pore size of the implant can be chosen. The biocompatibility of the implant prototypes has already been demonstrated in vitro.
While Fraunhofer ILT continues to research new materials and processes, SLM equipment for magnesium alloys is already available from Aconity3D.
Lighter and stronger: SLM allows for full topology optimization
The advantages of magnesium alloys have long been known in the worlds of aerospace and motorsports. These materials are 30% lighter than aluminum, yet they are also much more difficult to work.
The new SLM processing technique solves this problem in an elegant fashion. To explore the concept in detail, Fraunhofer ILT constructed a motorcycle triple clamp in 1:4 scale, by optimizing the entire topology of the component by computer. The objective here is to achieve full structural and weight optimization for comparable lightweight parts.
This represents one of the world's first example of complex components made from magnesium alloys. In terms of quality, they are equal to other SLM products, yet with respect to strength they are even superior to cast parts.
This opens the door to new applications not only in lightweight construction, but also in medical technology, such as custom-made surgical bone replacements for cranio maxillofacial applications.
SLM live at AKL'16
In addition to magnesium alloys, research work is continuing on developing SLM for processing novel materials such as high-temperature alloys for turbomachinery applications or copper alloys. The various processes will be exhibited at the International Laser Technology Congress AKL'16 in Aachen.
As a part of the exhibition, Fraunhofer ILT will be once again offering around 70 "Laser Technology Live" presentations in addition to talks with subject area experts at its Application Center.