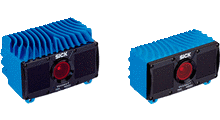 SICK, a manufacturer of sensors, safety systems, machine vision, encoders and automatic identification solutions for factory, logistics, and process automation, announced the launch of the Visionary-T DT sensor.
The Visionary-T DT sensor is a 3D vision sensor that uses single-snapshot Time-of-Flight (TOF) technology to detect the presence or absence of 3D objects. With sensing range is up to 50 by 45 meters at 40 meters distance, the Visionary-T DT is ideal for collision warning systems on forklifts, automated guided vehicles (AGV) and carts (AGC).
The Visionary-T TD's hardware and software specifically designed for industrial indoor jobs. The sensor hardware can function in temperatures between 0° C to 50 ° C. The sensor software provides easy to understand 3D image analysis that can be communicated directly to a visual display, acoustic alarm, or PC. The software is also capable of being taught detection zones or 3D objects.