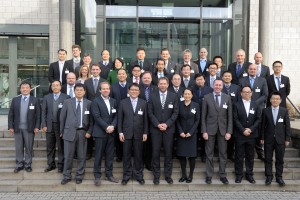 About 35 university scientists and institute researchers from China and Germany attended a Sino-German Symposium on laser additive manufacturing and processing of high-performance materials over three days at the end of January 2015.
Sponsored by the Sino-German Center for Research Promotion (Beijing, China) and by the Chair for Laser Technology LLT at RWTH Aachen University (Aachen, Germany), the Symposium represents the latest development after a number of exchange workshops in both Germany and China. Designed to bring together the leading experts of the two countries, a primary goal of the Symposium is to promote bilateral cooperation in the fields of laser additive manufacturing (LAM) and of processing high-performance materials.
This latest Symposium follows a first that took place in May 2010. Prof Reinhart Poprawe, Director of Fraunhofer ILT und Head of University Chair for Laser Technology LLT, RWTH Aachen, gave a short welcoming speech to delegates, commending Chinese researchers on having made significant progress in the last five years in the fields of photonics and laser technology.
This recent progress effectively laid the ground for organizers Prof Dongdong Gu (Full Professor at the College of Materials Science and Technology and Deputy Director of the Institute of Additive Manufacturing (3D Printing), Nanjing University of Aeronautics and Astronautics (NUAA), PR China) and Prof Ingomar Kelbassa (Vice and Academic Director of the Chair for Laser Technology LLT, RWTH Aachen University and a Department Head at Fraunhofer ILT) to further intensify collaboration.
Attendees were provided with two days of presentations, during which senior professors and researchers from a number of universities and institutes around China, as well as from those within Germany, presented an overview of their work. A third day provided an opportunity for Symposium delegates to view research facilities at the Fraunhofer ILT and IPT and at the WZL at the RWTH Aachen University.
For some of the Chinese delegates the Symposium represented the culmination of a succession of visits and collaborations with many of the researchers from Germany also in attendance. For these researchers, and for other Chinese delegates previously never before in Germany, attendance at the Symposium also provided authorization to subsequently submit grant proposals to a joint fund set up by the German Organization for Science and Research (Deutsche Forschungsgemeinschaft, DFG) and the National Natural Science Foundation of China (NSFC). An open discussion at the end of the two days of presentations proved instrumental in promoting dialog between potential partners, so that the funding advantage provided to the researchers could be realized.