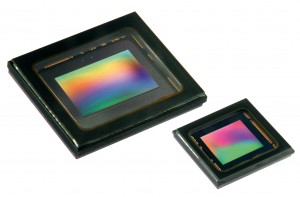 The Sony IMX397 is a very small 1/6.4" CMOS global-shutter sensor with a pixel pitch of 3,45 µm and providing VGA resolution. It is a low-noise, low-power imager with a small footprint and a high-speed throughput of 240 fps at full resolution. These qualities, together with MIPI output and a compact package, make this embedded low-cost imager a suitable candidate for factory automation, industrial applications and sensing. This new sensor, along with all other Sony imagers and accessories, is available from global imaging expert Framos.
The monochrome-only small image sensor is 4.63 mm by 3.67 mm in a very thin package. The MIPI CSI-2 I/F can connect to general-purpose ISP, and this feature makes the Sony IMX397 a good fit for embedded vision projects in an industrial environment.
Both internal and external triggers can be set for precise timing and capture control in automated industrial processes. The IMX397 has a 10-bit A/D converter and operates with three power supply voltages, achieving low power consumption of about 105mW for battery operation.
The industry and product experts at Framos are available to support customers with the integration of these new sensors into their applications and projects. In addition, Framos provides support services for development, customization and logistics.