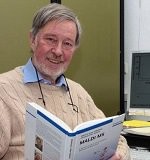 The SPIE-Franz Hillenkamp Fellowship provides an annual award of US $75,000 to translate new biomedical optics and biophotonics technologies to clinical practice for improving human health. Applications were open on April 16, 2020 and the deadline is September 4, 2020.
The fellowship honors Hillenkamp's distinguished career as a researcher, teacher, and mentor who had an enormous international impact. A German scientist, he introduced the first medical laser applications laboratory and marked the genesis of translational research in biomedical optics in Europe in the 1970s.
The application cycle for the 2021 fellowship is now open.
Applying for the fellowship
Young investigators with a PhD, MD, or equivalent degree are eligible to apply. There are no restrictions on geographical location; however, applicants and hosting labs must propose original research in biomedical optics that is expected to lead to new diagnostics and/or therapeutics in medicine and biology. For more information, click here.
Support the fellowship
The fellowship program is founded by SPIE and the family and friends of Franz Hillenkamp, as well as three Founding Labs: the Wellman Center for Photomedicine and the Manstein Lab in the Cutaneous Biology Research Center, both at Massachusetts General Hospital in Boston (USA), and the Medical Laser Center Lübeck (Germany).
Labs and organizations may further support the fellowship through partnership or industry sponsorship. Learn more.