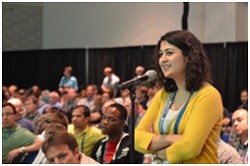 Four technical symposia, briefings on and a celebration of the upcoming International Year of Light 2015, a major one-of-a-kind exhibition and numerous networking opportunities will draw researchers, engineers, developers and students from around the world to SPIE Optics + Photonics 2014 on 17-21 August at the San Diego Convention Center in San Diego, California (US). The event is sponsored by SPIE, the international society for optics and photonics.
Symposium-wide plenary speakers on opening day will include:
Robert Pappalardo (Jet Propulsion Lab), on NASA's proposed Europa Clipper mission to place a spacecraft in orbit around Jupiter's moon Europa to look for liquid water or other signs of habitability. The possible payload of scientific instruments includes radar, infrared (IR) spectrometers, topographic cameras, mass spectrometers and other imaging devices.
Babak Parviz (Google X), on the background and reasoning behind Google's development of the Glass platform and new opportunities that may arise in the wearable market.
Mike Dunne (National Ignition Facility [NIF], Lawrence Livermore National Lab), on NIF's progress toward bringing star power (fusion) to Earth, including results of an experiment this year that resulted in fusion energy output more than double the energy input to the fusion fuel.
Fourteen more plenary presentations throughout the week will include talks on nano-scale engineering, photovoltaic (PV) technology, image processing, organic bio-devices and optical imaging.
The event's three-day, free-admission exhibition is the largest international, multidisciplinary optical sciences and technology event in North America, according to the organisers.
Approximately 180 suppliers will present products and technology solutions for optical engineering, optical fabrication and design, detectors, sensors, cameras, lasers, signal imaging and processing, fibre optics, optoelectronics, LEDs and OLEDs, and test, measurement, and analysis equipment.
A professional development program includes 32 courses and workshops on core concepts in optical and systems engineering, optomechanics, manufacturing, remote sensing, metrology, and more.
Technical attendees will have access to 3100 papers covered by four symposia: NanoScience + Engineering, Solar Energy + Technology, Organic Photonics + Electronics, Optical Engineering + Applications.
The NanoScience + Engineering symposium, launched in 2007, is one of the world's largest and most active nano meetings. This year's symposium is expected to cover a wider-than-ever range of cutting-edge research and development (R&D).
Several conferences within the Optical Engineering + Applications symposium will augment technical sessions with historical and business aspects of the field.
A two-day conference will celebrate the 50th anniversary of the Optical Sciences Center, founded by Aden Meinel in 1964 and now known as the College of Optical Sciences, at University of Arizona. SPIE Fellow and Past President James Wyant, who became the founding dean when the centre became a college in 2005, will give a keynote presentation.
In Photonic Innovations and Solutions for Complex Environments and Systems, Akhlesh Lakhtakia and Judith Todd (Pennsylvania State University) will moderate a panel discussion on issues such as how research agendas are being set in light of government policies and actions, and whether universities and research institutes have the right frameworks to partner with industry and government.
SPIE will preview International Year of Light 2015 (IYL2015) festivities with a "First Light" presentation at the symposium welcome reception. Throughout the week, a booth will offer information on how to become involved in the initiative, and activities such as the SPIE International Year of Light Photo Contest. SPIE is a founding sponsor of IYL2015.
At the Women in Optics presentation and reception, Ana María Cetto (Instituto de Física, Universidad Nacional Autónoma de México) will describe the establishment in 1996 in Mexico City of a Museum of Light. Cetto, who was on the team of optics and photonics leaders who proposed the IYL2015 to the United Nations and UNESCO, will also discuss the initiative.
An SPIE Student Chapter Leadership Workshop] on 16 August will offer sessions on effective career and chapter development practices along with presentations on career skills, optics entrepreneurship, and publishing.
Conference proceedings papers will be published individually in the SPIE Digital Library as soon as approved after the meeting, and also in collected print and digital volumes.