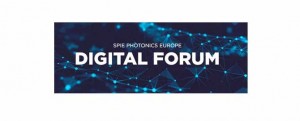 SPIE Photonics Europe Digital Forum is a newly launched version of SPIE Photonics Europe 2020, reimagined into a convenient, high-quality, and timely method to share emerging research and technology advances throughout the photonics community — from digital optics and quantum technologies to biophotonics, optical imaging, sensing, and metrology. The forum is free and takes place April 6 to 10.
Watch presentations on your own schedule during the forum week.
Engage authors by posting questions for them to answer in a chat-like feature.
Gain continued access to research — sign up includes free access to the SPIE Photonics Europe Digital Forum Proceedings.
Keep dialog and information dissemination open for the scientific community, even during times when we cannot meet face-to-face for valuable discussions.
There is no cost for the SPIE Photonics Europe Digital Forum.