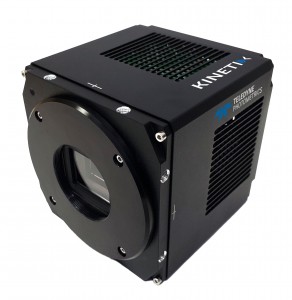 Teledyne Photometrics, a Teledyne Technologies company and global leader in scientific imaging, announces the release of its Kinetix sCMOS camera which delivers an unmatched combination of speed, sensitivity, field of view, and resolution.
The Kinetix is an all-new camera platform that builds on the success of the industry-defining Prime 95B and Prime BSI back-illuminated sCMOS cameras and redefines expectations of sCMOS camera speeds.
Designed for the most demanding and highest-speed scientific imaging techniques, the Kinetix ensures that extremely dynamic events are captured by acquiring over 400 frames per second. The near perfect 95% quantum efficiency coupled with Correlated Multi-Sampling (CMS) maximizes the amount of light captured, even at the dimmest levels, and the 10-megapixel sensor provides high-resolution imaging over a huge imaging area by leveraging 6.5 µm pixels that span an almost 30 millimeter field of view.
Key features:
>400 frames per second, full-frame
10 megapixel resolution, 29 mm field of view
3200 x 3200 pixels, 6.5 x 6.5 µm pixel area
>95% peak QE, Correlated Multi-Sampling (CMS)
"The Kinetix redefines expectations for scientific cameras. While the super-low noise and back-illumination help when there isn't much light, the unmatched speed of the camera truly opens up possibilities for new discoveries," said Rachit Mohindra, Senior Product Manager at Teledyne Photometrics. "Scientists have continuously requested faster pixel readout rates for cameras, and the Kinetix definitely delivers speed."
For more information about the Kinetix sCMOS camera, please visit the Teledyne Photometrics website.