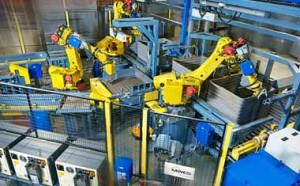 The Robotic Industries Association (RIA) will hold its International Collaborative Robots Workshop from May 3-4 at the Hynes Convention Center in Boston, Massachusetts (US), In partnership with the largest technology trade organization in Massachusetts, Mass Technology Leadership Council (MassTLC), and its innovation hub for robotics, known as MassRobotics.
The Workshop will explore advancements in the field with a global view on collaborative robot technology, applications, safety implications, and the human impact. RIA will host many of the world's leading collaborative robot experts who will offer presentations on a variety of topics, with top robotics companies also showcasing their emerging technologies and trends. The Workshop is being held on the same days and in the same location as The Vision Show, a bi-annual event hosted by RIA's sister organization Automated Imaging Association (AIA), the world's largest trade association for advancing vision and imaging.

Human-robot collaboration has become ever more prevalent with robots now moving out of safety cages with the ability to be deployed flexibly in ever-changing applications. This development prompts many questions and topics addressed by the RIA workshop. Agenda includes:
Overview of Collaborative Robots
User Panel: How We Implement Collaborative Robots
Getting Started with Collaborative Robots
Collaborative Robot Technologies and Customer Applications
Collaborative Gripping Technologies
The Role of Simulation in Collaborative Robot Applications
TR 15066 Overview: Safety for Collaborative Applications
Supplier Demonstrations
The details
The Workshop will be held in conjunction with The Vision Show 2016, which takes place 3 to 5 May at the Hynes Convention Center, and many of the companies speaking at the conference are also exhibiting in a special "Collaborative Applications" section on the show floor. There is no cost to register to attend The Vision Show, walk the show floor and see the keynotes.
The Vision Show will open with a keynote from Steve Varga, Principal Scientist, Imaging and Instrumentation R&D / Global Technology Export Controls, Procter & Gamble. Presentations on where the collaborative robots are being deployed today will be given by leading manufacturers, including Scott Mabie, General Manager at Universal Robots, and Jim Lawton, Chief Product and Marketing Officer at Rethink Robotics. In closing, an overview on the future of collaborative robotics will be presented by David Mindell, CEO and founder of Boston-based Humatics Corporation, whose talk is titled "Our Robots, Ourselves: Toward Situated Autonomy."
Registration for the International Collaborative Robots Workshop is $695 for RIA and MassTLC members ($795 for non-members). For complete details and registration information, visit the International Collaborative Robots event website.