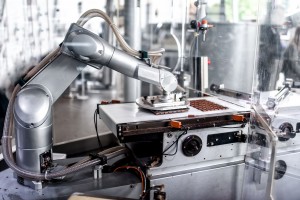 Sony Semiconductor Solutions features its third-generation CMOS global shutter with the new IMX421 and IMX422 image sensors. Both of these two high-speed sensors for machine vision and factory automation come with a pixel size of 4.5 µm for high sensitivity and low noise. The IMX422 achieves a frame rate of more than 434 fps at 10 bit pixel depth, providing a square pixel array of 1/1.7" and 2 megapixel resolution. The IMX421 achieves a frame rate of up to 371 fps implementing a 2/3" format and 2.8 megapixel resolution. These high readout rates are supported by a full HD readout-mode and the new SLVS-EC interface. New features like high/low conversation gain (HCG/LCG), dual trigger, dual ADC, and self-triggering increase the maximum throughput for precise object recognition and quality assurance of moving objects.
Features specific to Sony's third generation
Both sensors are equipped with four additional features, specific to Sony's third generation: The high conversion gain (HCG) allows the acquisition of images with better quality under low light conditions. This result is achieved by increasing the conversion gain of the pixels while keeping the noise contribution of the analog circuit constant. Conversely, the low conversion gain mode (LCG) is used under bright illumination conditions, realized by lowering the conversion gain of the pixel. Dual triggering allows different exposure times and gains in different regions of interest (ROI), to obtain an individual and effective image acquisition pipeline with two external trigger signals. The Dual ADC can read each pixel with separate gains. A high dynamic range image can be obtained by combining the two images, "off the sensor." The self-trigger feature detects a change in the predefined "sensing area" and acquires an image automatically when this change exceeds a set threshold.
Evaluation samples are now available from Framos; mass production is scheduled for Summer 2018. All Sony third-generation sensors are pin-compatible, and the one sensor board design can be utilized for other sensors and projects to minimize development efforts.