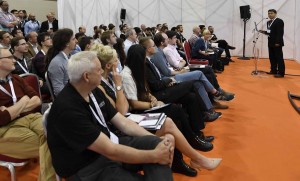 The 3rd UKIVA Machine Vision Conference and Exhibition, held in Milton Keynes, proved to be a great success, with visitor numbers up by 15% compared to 2018 and an outstanding exhibitor satisfaction rating. In an exhibitor survey, 100% of the respondents recorded satisfaction levels of 'very good' or 'excellent'.
The Conference continues to be a powerful attraction, highlighting visitors' desire to learn. Average attendance at the seminars has grown by over 30% since the inaugural event in 2017. This year's Conference offered more seminars than ever before across 8 presentation theatres, with the additional theme covering vision and robotics attracting a lot of interest.
Once again, however, the presentations about deep learning and embedded vision proved to be the most popular, as these exciting technologies continue their rapid development. There was also a strong emphasis on practical usage of vision. Over 20% of the presentations featured actual solutions and there was plenty of opportunity after the talks for attendees to discuss application opportunities in more detail with the presenters.