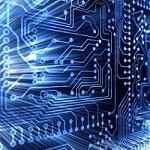 VI Systems GmbH, a specialist in high-speed components for data communications, has announced that the company has acquired an exclusive license to US patent 8,472,496, "Optoelectronic Device and Method of Making Same," for applications in optical data communications, sensing and illumination using vertical-cavity light-emitting diode (LED) structures.
The patent addresses the possibility of fabrication of surface-emitting lasers and LEDs in any materials system by attaching a dielectric cavity layer, confined by multilayer dielectric distributed Bragg reflectors (DBRs) on both sides, to the gain medium.
The concept enables trapping and amplification of light; even the cavity layer itself remains passive. This approach eliminates the need in lattice-matched high conductivity all-semiconductor DBRs and allows easy integration of the device to photonic crystals, sub-wavelength gratings and waveguides. It also offers an option of high-temperature stability of the wavelengths for uncooled dense wavelength division multiplexing (DWDM) applications, as well as further advantages.