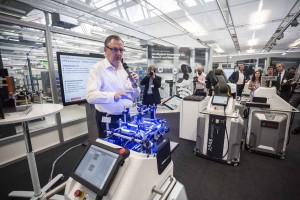 It has become a tradition for Messe Stuttgart to hold a VISION summer press conference a couple of months before the show opens. This year, Bosch, as a newcomer on the VISION exhibition floor, hosted the event on its premises in Stuttgart.
In the past similar press conferences focused on medical discoveries and intelligent traffic systems. This year the focus was on applications for the food and beverage industry. So far about 15 exhibitors have enrolled in the special tour route. Embedded vision and 3D are going to be a focus topic at the show, together with hyperspectral imaging.
VDMA Machine Vision presented record numbers of German sales both domestic and globally. According to VDMA Board member Dr. Heinol-Heikkinen, one key advantage of German small and medium machine vision companies is their know-how, which has been acquired in the last 30 years and promoted by the automotive industry. Total turnover of the German machine vision industry grew by 9% in 2015 compared to the previous year and is expected to increase by another 8% by the end of 2016, making an absolute turnover volume of roughly 2.2 billion Euros. This is a doubling in turnover within ten years. The industry posted year-on-year sales growth of 13% in the German home market. Among the global regions, with 23% share is exports to the rest of Europe that come out ahead. Next comes Asia with 21%t – with China alone accounting for 9% of total sales; and a year-on-year growth of 19% there. North America has a similarly high level of growth, boasting an increase of 8% compared to the previous year and accounting for 12% of the total turnover. As to China a steady growth is predicted since rising quality standards need to be maintained and apparently the VDMA does not see Chinese suppliers to be competitive yet to meet these demands.
As to trends "seeing machines" such as robots are still regarded key within the global race toward greater automation. Then, machine vision is expected to further penetrate the segment of non-industrial application fields. One major challenge ahead is the use of the growing amount of information through modern interfaces and standards on the application level. Here the association, as part of the G3 initiative, has partnered with the OPC UA Foundation to enable interoperability in future Industry 4.0 applications.
At VISION 2016 Bosch will showcase its APAS inspector, a mobile inspection system for use in flexible production. The APAS family serves as a basis for the application of robot-based solutions in flexible manufacturing and in direct human/machine interaction. "The factory of the future requires concepts in which humans and machines work hand in hand, and where machines support humans in their work", explains Wolfgang Pomrehm, Product Manager of the APAS family. The overall approach of the learning vision system is that the machine understands human gestures and behavior, not the other way around.
Written by Andreas Breyer, Senior Editor Germany, Novus Light Technologies Today