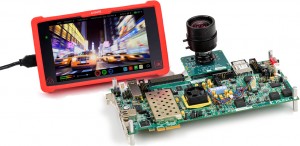 Under real-world testing, the new solution captures and tone-maps high-contrast scenes up to 120 dB or 20EV, all in real time at full HD 1080p 30 fps output.
Pinnacle Imaging Systems, a developer of high-dynamic-range (HDR) image signal processors (ISP) and HDR video solutions, and ON Semiconductor, a provider of HDR-capable image sensors, have announced a new, lower-cost HDR video surveillance solution capable of capturing high-contrast scenes (120 dB) with 1080p and 30-frames-per-second (fps) output. The new HDR video platform, running on the Xilinx Zynq 7030 SoC, meets the requirements to capture the highlight and shadow details of high contrast scenes for surveillance and machine vision applications. The new surveillance solution will be demonstrated during the VISION trade fair. Camera, AI developers and media interested in seeing live product demonstrations can visit the Avnet Silica /Avnet EMG booth (Hall 1 Stand 1C82) and talk to Pinnacle Imaging representatives.
The Pinnacle Imaging Systems Denali-MC HDR ISP IP Core has been ported to run on Xilinx technology and paired with ON Semiconductor's AR0239 CMOS image sensor, maximizing the capability of the sensor's three-exposure HDR. The Xilinx hardware-programmable SoC architecture enabled Pinnacle Imaging to develop a new custom sensor interface to support the AR0239 at a fraction of the cost and development time of other SoC or ASIC-based ISPs. Denali-MC's advanced motion compensation algorithms minimize motion artifacts often associated with multi-exposure HDR capture and Pinnacle's locally adaptive tone mapping algorithms accurately reproduce color and tonal gradations of high contrast scenes. With Pinnacle Imaging's proprietary Ultra HDR(TM) technology, camera placement is no longer a concern. These capabilities also provide camera and AI developers more accurate image data, increasing recognition system accuracy, making the solution fit for surveillance cameras and machine vision systems, intelligent traffic systems, smart city, autonomous surveillance systems and more.
Pinnacle Imaging also worked closely with the ON Semiconductor engineers to develop a new sensor interface to support the three-exposure HDR capture mode of the AR0239 CMOS image sensor.
The Pinnacle Imaging team further optimized its Denali-MC HDR ISP IP to fit into the smaller, cost-optimized Xilinx Zynq 7030 SoC, enabling competitive new markets for smart security and surveillance cameras.
Availability and demonstrations
The Denali-MC ISP with the ON Semiconductor AR0239 sensor will be on display throughout the VISION trade fair in Stuttgart, Germany, in the Avnet Silica /Avnet EMG GmbH booth (Hall 1 Stand 1C8).
Pinnacle Imaging Systems will make the Denali-MC development platform available for camera designers in Q1 2019.