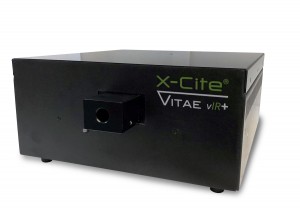 Excelitas Technologies, a global technology specialists delivering innovative, off-the-shelf and customized photonic solutions, has announced the new X-Cite Vitae vIR+, a customizable, high-quality multi-wavelength RGB illumination system with fluorescence. The X-Cite Vitae vIR+ is designed for high precision medical illumination and diagnostic applications such as endoscopy and surgical visualization.
The X-Cite Vitae vIR+ is a turnkey system for RGB LED illumination that provides high quality tunable white light and fluorescence excitation wavelengths. This high brightness white light source is designed with equivalent lumens to replace 180W or 300W Xenon sources. With an advanced optical design, the X-Cite Vitae vIR+ will match any CCT with individual RGB control and can achieve the high CRI required for medical applications. The addition of UV and NIR wavelengths allows for excitation of surgical fluorophores ranging from PPIX (UV excitation) to ICG (NIR excitation).
A new version of Excelitas' X-Cite Vitae vIR, the X-Cite Vitae vIR+ includes Excelitas' proprietary LaserLED hybrid drive for increased optical power. Thus, it provides higher output and more light with enhanced color uniformity in a quieter package. It features adjustable color temperature in an easily-integrated turnkey system. X-Cite Vitae vIR+ can be customized for specific application needs with flexible size, optical power, IR laser wavelength, power and control options and fiber connections.
The new Excelitas X-Cite Vitae vIR+ will be on display at Compamed 2019 (Hall 8A, booth F04), November 18 – 21, 2019 in Dusseldorf, Germany.