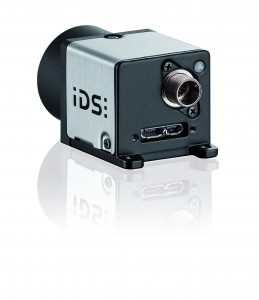 Stemmer Imaging announced a new 4.2 Mpixel 75 fps camera with NIR sensitivity has been introduced to join the colour and monochrome versions of the high speed USB 3.0 uEye CP cameras from IDS. Featuring a new NIR version of CMOSIS state-of-the-art 4.2 megapixel sensor, this new industrial vision camera provides double the sensitivity (16 %) in the near infrared wavelength range compared to the standard monochrome sensor.
The UI-3370CP-NIR operates at 75 frames per second at full resolution, utilising the high-speed data transfer capabilities of the USB3 3.0 interface. NIR imaging is a powerful technique that may reveal otherwise unobservable defects from below the surface of an object. Some dyes and inks appear transparent to NIR radiation so it may also be possible to check products through printed packages.
The fast global shutter ensures detailed, crisp and distortion-free images in all conditions, even of moving objects, making it suitable for speed critical applications in machine vision inspection, traffic surveillance, biomedicine, or astronomy. The camera also features a triggered line scan mode line with scan rates of up to 8 kHz for high-speed web inspection tasks. With its square 1 inch optical format and 2048 x 2048 pixel resolution the sensor is also ideally suited to solar wafer and surface inspection.
The compact (29 x 29 x 29 mm) UI-3370CP series of cameras feature a lightweight magnesium housing. With a C-mount lens mount, lockable USB 3.0 and Hirose connectors, a serial interface and optically decoupled trigger and flash, the cameras can be readily integrated into a wide range of applications.