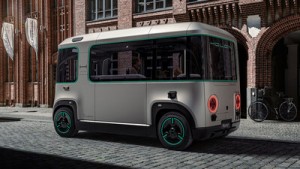 While fully autonomous vehicles still seem like lightyears away, they are here today and the market is on an upward trajectory. The autonomous vehicle market was valued at $87.5 billion in 2021, according to a recent report by Research and Markets, and is predicted to reach $614.9 billion by 2030 with a compound annual growth rate of 24.7% through 2030.
An example of a fully autonomous vehicle was recently announced by Holon, a new brand from the Benteler Group, which is based in Salzberg, Austria. The vehicle is an autonomous, fully electric and inclusive "mover", which debuted at the Consumer Electronics Show earlier this month in Las Vegas.
Holon reports that the new vehicle is the world's first autonomous mover built to automotive standards, and those standards include safety, ride comfort, and production quality. The Holon mover operates autonomously, and one reason that it is safe is that has a top speed of 37 mph. Its range is 180 miles on a charge.
"Our mover is an answer to social megatrends: Urbanization, climate change, demographics – mobility needs to change" said Marco Kollmeier, Managing Director of Holon. "With our mover, we are proving that emission-free, safe, comfortable and inclusive passenger transportation is possible. And thus provides the answer to traffic problems that are becoming prevalent in cities. We are delighted to unveil the vehicle to the global public today."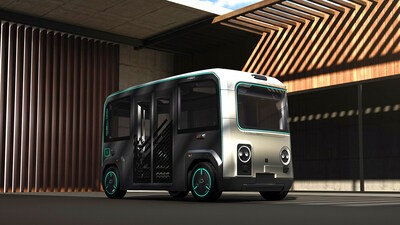 Because the mover is like a bus, it is best suited for services such as ride sharing and normal scheduled services. A pilot project will be launched in Germany with Hamburg's Hochbahn, the country's second-largest mass transit company. The mover will also be tested in the U.S., where the mobility provider, Beep, will be responsible for implementing the first vehicles. Other areas of application and thus customers include private institutions such as campuses, airports and national parks.
"Our mover is specifically designed for autonomous driving," said Marco Kollmeier. "This is reflected in every step of the development and every detail. The result is the world's highest-quality vehicle of its kind. As such, we are creating a new dimension of smart, sustainable mobility that ideally complements public and private passenger transport."
The vehicle has an asymmetrical design that combines function with value. It is designed to hold up to 15 passengers, so it is larger than a car, but smaller than a public bus.
"The vehicle design combines two character traits – friendly and inviting as well as technologically advanced and clear. That goes for both the exterior and interior. It immediately makes the HOLON mover a design icon," explains Silvio Pietro Angori, CEO of the renowned Italian design company Pininfarina. "Every detail of the vehicle is designed to make passengers feel more comfortable and safer than in any other mode of transportation."
Some of its features that make the mover accessible to all include electric double-wing doors with photo-electric sensors and an automatically extending ramp with lowering function are included as standard for barrier-free access.
Seeing its way around
To navigate, the SAE Level 4 mover is based on Mobileye Drive, a commercial self-driving system for use in a pre-defined operational design domain. "Our autonomous driving system is designed to make ground-breaking mobility concepts possible – like the HOLON mover. Seeing the mover come to life is proof of the robustness and scalability of our approach," says Johann Jungwirth, Senior Vice President, Autonomous Vehicles at Mobileye.
In addition, the mover uses an advanced sensing system that makes use of different redundant sensors, an innovative mapping technology as well as a formal model for driving policy. The mover is also completely electrically driven.
U.S. presence
Leading mobility-services provider Beep is Holon's preferred partner in the United States, providing turnkey services and a technology platform for service management, governance and user experience.
"Automotive-grade autonomous shuttles provide a critical form factor for reducing congestion and emissions, providing first- and last-mile transportation, and extending mobility equity," said Joe Moye, CEO of Beep. "The unique and transformative value of shared, autonomous electric transportation is rapidly proving itself in our current deployments and use cases. With this new mover, HOLON is setting a standard for this kind of vehicle, and we are excited to introduce it to our current and future customers."
Production of the Holon mover is scheduled to start in the U.S. at the end of 2025, with additional production capacity to be built in Europe and the Middle East/Asia in the following years.