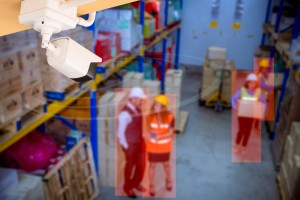 Modern security systems in goods warehouses need to go beyond pure video monitoring. Real-time, artificial intelligence (AI) driven video surveillance systems are able to automatically monitor and give an alert whenever an abnormal situation occurs. This enables the surveillance personnel to act quickly and efficiently and to avoid damage. In addition, the data collected generate many insights for improvements.
These were the main motives for a large global warehouse and logistics operator in its search to update the existing surveillance system monitoring a 93,000 square meter distribution center.
The distribution center handles 150,000 orders per day by 1,200 permanent employees and 2,000 seasonal workers. Considering the size, a large number of cameras is installed, which in itself presents great challenges in monitoring. Furthermore, the existing CCTV system was only being used reactively for post-incident analysis.
Approximately 227 incidents were identified per semester. As such there was a need to move from a reactive CCTV network to a proactive CCTV network to highlight incidents in real time. Another task for an improved surveillance system was to better utilize the CCTV network in order to meet the organization's risk management strategy.
Self-learning AI system
These requirements were met by the self-learning AI-driven solution from Icetana, which is distributed in Europe by Macnica ATD Europe.
Icetana is a global SaaS software company that provides video analytics technology designed to identify abnormal events and unexpected behaviour in real time for large-scale surveillance networks. Its software integrates with existing video management systems and IP cameras, and it uses artificial intelligence and machine learning techniques to learn and filter out routine motion, showing only unusual behavior. This allows operators to automatically prioritize responses to both precursor activities and current incidents.
Using Artificial Intelligence and Machine Learning techniques, icetana software learns and filters out routine motion, showing only unusual behaviour. This allows operators to automatically prioritise responses to both precursor activities and current incidents. icetana technology is implemented across a broad range of private, public, and government industries at over 40 sites on four continents. For more than 11 years, icetana has helped customers harness rich data streams from their existing security networks into improved situational awareness and deeper operational insights.
The plugin dramatically facilitates anomaly detection after easy installation into existing video management systems by automatic determination of events that are normal in a given environment and those events which are out of the ordinary. Icetana's software provides metrics for accelerated review of camera images and performance to optimize security assets and ensure that a high level of incident detection is achieved.
After the integration of Icetana's AI solution to the video surveillance security system in the warehouse, a number of positive impacts on the efficiency of the warehouse security system were noticed. As many as 140 unusual or anomalous events were automatically identified and reported to the warehouse's loss prevention, representing a 1,500% increase. 65% of these incidents are related to health and safety practices, something that needs high monitoring. These events, amongst others, include directional stair and walkway violations, uncontrolled roll cages, forklift truck safety non-compliance, or smoke emission.
Incident reporting in the warehouse has dramatically accelerated and with it image review, where for a single camera, 24 hours of footage can be reviewed in less than 2 minutes with the Icetana solution. As such, manpower savings in the evaluation of recorded video sequences were directly proportional to the time savings; and the visual fatigue of the security staff that normally monitors a multitude of cameras was reduced.
Written by Andreas Breyer, Senior Editor, Novus Light Technologies Today