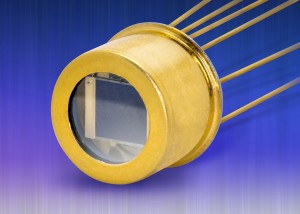 Opto Diode Corporation, an ITW company, Introduces the BXT2S-68TE, a thermoelectrically-cooled (TEC), two-stage infrared (IR) detector developed for gas analysis, emissions monitoring, and process control.
The lead selenide (PbSe) high-performance IR detector features a 6 mm x 6 mm (36 mm²) active area element housed in a TO8 package with a flat sapphire window. Peak sensitivity ranges from 4.3 µm to 4.5 µm with responsivity ranging from 1.65 x 104 V/W (minimum) to 2.5 x 104 V/W (typical). The device features minimum detectivity (D*) of 1.5 x 1010, resistance ranges from 1.0 to 15.0 MOhms, and a typical response time of 12 µsec.
The company's B-Series cooled IR detectors offer superior sensitivity for extremely low-level signal detection and exceptional stability in environments where fluctuating temperatures exist. They are ideal for applications such as spectroscopy, process control, gas analysis and emissions monitoring.
The BXT2S-68TE element operating temperature is -25 °C; absolute ratings for storage and operating temperatures range from -40 °C to +85 °C.