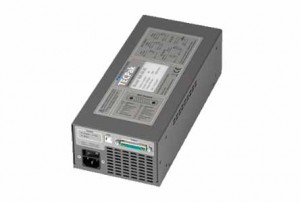 A combination of the display-less operation of its smaller brother (the 585 TECPak) plus the high power output of the 5400 TECSource, the new 586 TECPak from Arroyo Instruments offers up to 392W of output power in a compact and affordable envelope.
The 586 is often used in applications where high TEC power is needed but a display-less operation is fine (or even preferred), or where a lower cost solution is needed. It incorporates new features, like a interlock/LED interface for lighting an LED when the output is on, or interlocking the output for external shutdown. It also has a second sensor input so that you can simultaneously monitor two sensors, and select either for control.
Like its smaller brother, the 586 has no user interface, intended to be controlled from a PC. To get you up and running quickly, use our free Arroyo Control software, which gives complete you control and monitoring capability.
The 586 can also be used in fixed applications without a PC, such as regulating temperature in a long term experiment. All settings are maintained even when the unit is off, and will come back to the same state it was at power-off. An auto-start option allows you to configure the unit using ArroyoControl, and then simply turn it on with no PC required.