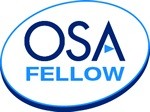 The Optical Society (OSA) Board of Directors today announced that 72 OSA members have been elected as the newest class of OSA Fellows. Regular OSA members who have significantly contributed to the advancement of optics and photonics are eligible for election to the rank of Fellow.
OSA Fellows are selected based on their overall impact on optics, as gauged through factors such as specific scientific, engineering and technological contributions; a record of significant publications or patents related to optics; technical leadership in the field; and service to OSA and the global optics community. Drawing from nominations from current Fellows, OSA's Fellow Members Committee recommends candidates to the Board of Directors. This process is highly competitive, as the number of OSA members recommended for election to Fellow each year is limited to less than 0.5% of the total OSA membership.
These distinguished Fellows will be recognised individually at meetings throughout 2013. More than 43% of this year's new Fellows reside outside the US. A list of the new Fellows and specific information on each of their accomplishments will be published in the February 2013 issue of Optics and Photonics News.