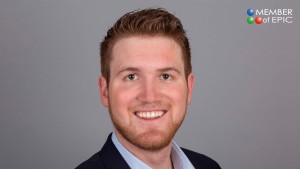 8photonics offers an innovation platform consisting of mechanical and electronic components mounted on a modular frame. The company is a spin-off of the University of Bern in Switzerland, and since the co-founders have worked for many years in research and development of fiber laser systems, they have a solid experience in product prototyping and its pitfalls. 8Photonics' rapid prototyping platform is tailored to the needs of photonics professionals in both academia and industry. The platform can be easily modified, offers portability and is easy to use. In this article, Jose Pozo, EPIC's CTO talks to Philippe Raisin, co-founder of 8photonics, a company changing the way laser systems are designed and assembled.
Research career
In 2012, Philippe went to Bern University to study for a BSc in Physics, followed by an MSc in Physics and a position as a student researcher in materials science at EMPA, the Swiss national laboratory in materials science and technology. His first contact with photonics came in 2013, when he began work as a research student in photonics in the Laser Division of the Institute of Applied Physics at the University of Bern. Initially, his main focus was on developing novel devices for ultrashort laser-pulse monitoring and quality control of new optical fibers developed at the institute.
In 2014, Philippe together with three colleagues co-founded AME GmbH, a start-up at the Laser Division at the Institute of Applied Physics at the University of Bern. The aim was to use 3d printed polymer optics to develop a new generation of optics specifically for the terahertz market for use in scanning and non-destructive testing applications for the industrial and medical sectors. Although the company went out of business three years later, basically because the technology was too early for the market, the experience would be invaluable for his next business venture.
Taking advantage of the University of Bern's well-established collaboration with the Gwangju Institute of Science & Technology in South Korea, in 2016, Philippe went to Gwangju on a three-month student exchange program. He worked on a feasibility study for manufacturing all-fiber pump strippers for high-power fiber lasers, and as he recalls it was an exciting experience: "It was a totally different research culture compared with Europe. The professor I was working for was constantly building laser prototypes and sending them to customers to test in a range of applications, like laser based manufacturing, space- and defence: the aim was to get research out of the lab and into industry as fast as possible"
For Philippe, Korea was a turning point because it made him see photonics less as an ultra-fast precision technology and more as a digital technology capable of creating flexible platforms and models that industry could use to solve their problems within with their boundary conditions. In 2017, he went to the ARTORG Center for Computer Aided Surgery in Bern, where he worked as a researcher on machine learning for estimating the applied energy during selective retina therapy treatment from direct M-scan OCT data.
This was followed in 2018 with a job as Product Manager for Village Data Analytics, a company based in Munich and Cape Town. The company is working on the development of an AI enabled decision-making tool that uses satellite imagery and socio-economic data to characterize off-grid villages. The aim is to enable governments, donors and private sector companies to make data-driven decisions on the most efficient and effective ways to provide isolated settlements with mains supplies of electricity.
8photonics
8photoncs was created in 2020 as a solution to problem that Philippe and his colleagues had faced for several years. The issue stemmed from the fact that building fiber laser prototypes in the lab using breadboards (temporary optical setups) comprising dozens of components was often a messy and unpleasant business. Moreover, the systems were difficult to transport to other labs or test in the field and making future design modifications was problematic.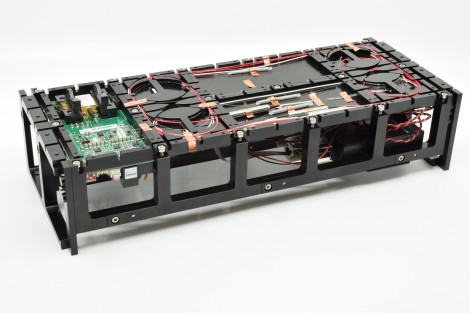 As a remedy, 8photonics have come up with a modular "LEGO" system comprising various modules, e.g. free space optics, fiber optics, component holders, electronics and laser diode drivers that can be put together on a grid to create a complete modular system. Using this platform, developing laser prototypes is now simpler, tidier, faster and also cheaper and more enjoyable; additionally, the systems are easier to transport and to modify.
First products: 8photonics offers two basic products. The first is a 'Step by Step Prototype Configurator' for customers to configure their own prototype. The customer first selects the modules they require, e.g. butterfly or laser diode drivers, type of breadboards and component mounts etc. They then select the size of the modular grid-kit (S, M, L, XL) to accommodate the modules they have chosen. The second product 'Preconfigured System Kit' is a variation of the first and comes with the modules already configured in the appropriately sized modular grid-kit, e.g., a kit comprising a pre-configured butterfly laser diode driver and fiber coiling kit.
This approach was chosen as a way of simplifying the process so that customers wouldn't get bogged down in the details of the components.
Company growth: Over the last 12 months, the company has followed an organic approach and already has a number of mainly academic customers around the world using their modular platforms to create a variety of customized systems. Philippe puts their success down to two main factors:
Teamwork: Setting up the company was a collaborative effort involving four colleagues in the same research department who had all experienced the problems of working with breadboards for the development of laser systems. Between them, they have expertise in all the required technical fields of physics and electronic and mechanical engineering and, most importantly, a shared passion and attachment to their technology and the belief that their modular approach represents a paradigm shift in the way laser systems are designed and assembled.
8photonics was their first customer: First and foremost, the modular technology was developed to solve a problem faced by their own research group. It was only after they had developed and perfected the system in their lab that they thought about commercialising the technology. For Philippe, this was a key factor in their success: "Being our own first customer enabled us to get the first validation and optimise the technology before we shipped the product and this is the approach we intend to follow for new products that are still in the development stage".
The future
8photonics principle mission is to educate the industry to think modular especially for ultra-fast laser systems. From a photonics perspective, the advantages of modularity are not only faster and cheaper laser systems, but also because a modular approach will facilitate much stronger interaction and profitable synergies between specialty fiber and laser manufacturers. Having a fibre optic module in a system that is easy to integrate, easy to test and easy to exchange will provide new opportunities for European speciality fibre manufactures. This applies not only to speciality fibre but also to the power supply and, in fact, the whole front end as everything can be easily exchanged.
8photonics' most immediate goal is to make their modular technology the standard 'go-to' platform for fiber laser designers and engineers looking for solutions to the problem of integrating modules of ever-increasing complexity and digitally controlling laser systems with multiple electrical parts.
So far, they have opted for organic growth, selling directly to customers and using their feedback to improve the modules. However, Philippe is aware that in order for the laser industry to accept their new digital modular paradigm, 8photonics will need to make their platforms as accessible as possible. To this end, they are exploring a number of avenues such as working with distributors, licencing their technology and designing modules that can integrate other companies' products onto their platform.
What would you do differently, if you started again?
"I'd definitely be drawn towards the same fields because machine learning, AI and photonics are everywhere now. In fact, today, STEM students can't avoid them".
"I'd also try to get research experience outside Europe earlier than I did because working in Korea was really enriching".
"As regards AME, even though it didn't work out, I'd still set up something similar. Firstly, because making mistakes comes at a lower cost earlier than later in your career; and secondly because I learnt so much about how to commercialise an idea. Creating a start-up puts you in touch with a lot of interesting people outside your university bubble and into the mindsets of investors and people working on the business side of things".
What are your words of wisdom for the next generation of entrepreneurs?
"First, develop your product or idea with a team of likeminded people who have the same passion for and attachment to the technology as you do."
"Secondly, talk to the end user as soon as possible so you really know what the market needs; maybe you'll have to tweak the product, or it might be too early for the market, in which case, you'll have to change your strategy."
"Third, unfortunately, photonics is still not mature enough to provide a generic product that really fits all customers. If customers need to spend extra money customizing the product, they will be less inclined to incorporate photonics. One way round this is to think modular and provide products that are reconfigurable so that customers can configure your systems to their exact requirements".
Written by Jose Pozo, Director of Technology and Innovation at EPIC (European Photonics Industry Consortium).