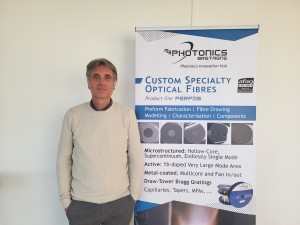 Brittany, (Bretagne in French), situated in northwest France, has always been France's number one agricultural region and the leading agri-food region in Europe. But in 1960, Pierre Marzin, a native of Lannion and Minister of Telecommunication, took advantage of decentralization policies and successfully pushed for the National Telecommunications Research Centre (CNET) to be established in Lannion, a commune in northwest Brittany. This marked the beginning of accelerated telecoms innovation and development in Lannion and throughout the Trégor region. For example, in 1962, Pleumeur-Bodou, one of Lannion's neighbouring towns was the site of the first satellite transmission between the USA and Europe. Since then, Lannion has become known as the "Breton Silicon Valley" with several large telecom companies such as France Telecom (now Orange) and Alcatel (now NOKIA), Sagem, Highwave Optical Technologies, Algety-Corvis and more recently Ekinops, Ideaoptical, Bktel Photonics, EXFO, Lumibird, Exail and Ericsson operating here.
The presence of a large telecommunications industry in the area has led to the creation of three training institutes of technology in Lannion delivering degrees from Bsc to PhDs! (Lycée Le Dantec, IUT, Enssat) with courses in computer science, photonics and digital systems and a CNRS research lab called FOTON. In addition to the Lannion ecosystem, Photonics is also more and more present in other breton towns such as Brest and Rennes with for exemple Cailabs, Le Verre Fluoré, Diafir and Evosens growing steadily or exponentially for some of them since few years now. .
In this article, Carlos Lee, EPIC's Director General, talks to David Méchin, Director at Photonics Bretagne, Brittany's Photonics Innovation Hub comprising a business cluster and a Research and Technology Organisation, to learn about the history, organization structure and the future of photonics in this beautiful region.
What's the history of Photonics Bretagne?
By the early 2000s, most of the big telecom companies in Lannion had stopped fabricating components. Silica on silicon chips and PIC R&D development was for example stopped. In order not to lose speciality optical fibre technologies, in 2003, a group of CEOs from mainly small companies formed an association called PERFOS (Platform for the Study and Research on Specialty Optical Fibres). The idea was to use the drawing tower that France Telecom and then Highwave Optical Technologies had previously employed to develop special optical fiber manufacturing technologies, and to pool these and other tools for the local ecosystem. PERFOS started with four people in 2003 then qualified quickly as a Regional Technological Innovation Centre. By 2012, it had become apparent that Brittany needed to follow the lead of some other French regions and establish a photonics cluster. Accordingly, PERFOS modified its statutes and became Photonics Bretagne that would serve as a Photonics Innovation Hub and bring together a technology platform and a cluster.
What is the background to your appointment as Director at Photonics Bretagne?
In 2002, I received a PhD in optoelectronics from the University of Saint-Etienne, which focused on Bragg grating-based optical add drop multiplexers in the research labs of Orange and Highwave Optical Technologies in Lannion. Wanting a new challenge, I then went to New Zealand as a Postdoctoral Fellow at The University of Auckland. I stayed there for three years doing nonlinear optics in optical fibres, and then worked as a Research Fellow at Southern Photonics, a newly founded spin off of the university. In 2009, I was contacted by PERFOS, who offered me the job of Program Director. By this time, I was feeling a bit homesick, so I gladly accepted the offer and returned to Brittany. I led a team of 10 people and in 2012, I became General Manager of the newly formed Photonics Bretagne.
How is Photonics Bretagne structured?
We have 25 employees, and I am accountable to the Governing Board composed of a President and 11 other board members elected from our members. Our activities are in two main areas. The first is the cluster, where we lead Britany's photonics sector and support companies in the integration and use of photonics technologies with the aim of generating economic growth and creating jobs in Photonics in Brittany.
We currently have 115 members, and apart from two big companies Orange and THALES and research centres and schools, most of our members are start-ups and small SMEs with between 10 and 100 people. Membership fees vary from €150 per year for SMEs with less than 10 people, €600 for SMEs with 51 to 250 people, and €2,400 for institutions or companies with more than 2,000 people.
The second activity is a Research and Technology Organisation (RTO) which designs and commercializes specialty optical fibres (under the brand name Perfos) and provides solutions in agrophotonics engineering/Proof of conceptA major landmark for us was the creation of the new Photonics Park in 2017 in Lannion, and our move to larger premises with new facilities including a 13-metre-high fibre-drawing tower. This enabled us to offer next-generation optical fibres and their integration in newly developed fiber-based components like lasers and sensors. Our RTO operates in a similar way to the Fraunhofer institutes in that it is funded by commercial activities, collaborative projects and public funding. The RTO's main aim is to develop new know-how, processes and photonics products in order to ensuring their commercial exploitation through technology transfers to industry. While the RTO is primarily dedicated to the Photonics industry, we also aim to reach the numerous end-users that are present in the region and beyond. It also allows the launch of start-ups together with foreign investment looking to benefit from the first-class facilities in the vicinity.
What activities and services do you provide for your members?
Our cluster activities focus on the integration and use of photonics technologies. These include technology intelligence and advice, connecting, networking, collaborative projects (regional, national or European), organization of technological or business events/meetings and continuing education. As training is now a big deal in photonics, we also focus on education and training activities and the promotion of photonics. For example, each year we participate to a week-end event in Lannion called Science Village to promote photonics and enable photonics companies and research organisations to explain what they are doing to the general public. We also organise outreach activities in schools to explain what photonics is and to encourage the children to consider photonics as a future career. Additionally, as a way of improving their chances of being taken on by local photonics companies, we offer short training placements for older children to give them experience, for example, in handling optical fibre and aligning a laser.
As regards the RTO, we provide arrange of technology services such as renting or leasing equipment like spectrum analysers, or doing measurements for members on our own equipment. Located in the Photonics Park are numerous world leaders in the photonics field such as Lumibird, Exail, Oxxius, EXFO, Kerdry, Idil, and Ekinops. This means that if a member comes to us wanting some speciality optical fibre or a particular type of laser that we can't provide, we can put them in touch with a relevant company.
What advantages does Brittany have for photonics companies?
Brittany is an attractive region and the third most popular destination for tourists to France. It's close to the sea and a place where you can combine a good quality of life with technology. Several world leading telecom and photonics companies have located here, so we have a vibrant photonics ecosystem and there is no shortage of high-tech jobs. Anyone thinking of paying us a visit to see our facilities and learning more about photonics in Brittany is very welcome to contact me.