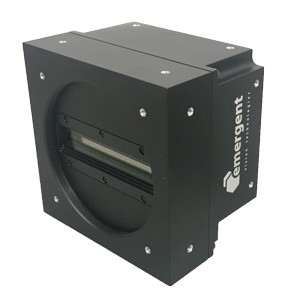 Emergent Vision Technologies, specialists in 10 Gigabit Ethernet High Speed Area Scan Cameras, which have been into shipping for over 6 years, announces ghe launch of the first ever 25GigE Line Scan cameras, The Accel Series. The EVT Accel Series under the trademark of Emergent Vision Technologies is the first ever line scan camera embedded with the 25GigE interface. The company reports that the 25 GigE interface provides a 25-fold increase over the GigE interface standard and 2.5 times increase in data transmission speeds over its predecessor i.e., 10GigE. The EVT Accel Series 25GigE Line Scan cameras are also compliant with GigEVision and GenICam.
The EVT Accel series
Accel LB-8K: The Accel LB-8K is the first ever line scan machine vision camera in the world world to use the 25GigE Vision interface. Utilizing the E2V 8K Sensor, the LB-8K proves to be an outstanding choice for displaying high-precision, low-noise line scan imaging. The sensor provides varied line rates at an 8K horizontal resolution ranging from 200KHz single line, 100KHz bilinear, and 66KHz trilinear. The Accel LB-8K series constituting 8K sensor also supports multi-line scanning likelihoods with improved control for the scanning of each line.
The EVT Accel Series delimits the need for fiber converters or repeaters, utilizes fiber cabling and low cost SFP28 transceivers from 1 meters to 10 kilometers.