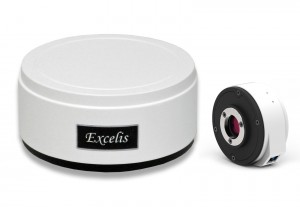 Accu-Scope Inc.introduced the MPX-16C 16-megapixel color microscopy camera, the latest addition to the Excelis line of microscope cameras. Boasting extraordinary color and high resolution on any microscope, the MPX-16C is the latest "must have" imaging device for microscope users in industry, manufacturing and life sciences.
The MPX-16C (CAT# AU-16-CMOS) features dual FPGA processors to generate exceptional color reproduction, and fast data communication to the computer through its built-in USB 3.0 connectivity. With 16 megapixels, the MPX-16C delivers high resolution from low to high magnifications, allowing the capture and visualization of even the finest details of the specimen. The MPX-16C comes with CaptaVision software, and the industry-standard C-mount allows the camera to be added to any camera-ready microscope (0.5x c-mount adapter recommended).
The new Excelis MPX-16C 16-megapixel color microscopy camera is available now from ACCU-SCOPE. For more information, visit the product page at .
Accu-Scope, Inc. is a specialist in high quality, certified microscopes for clinical, research, educational and industrial applications.