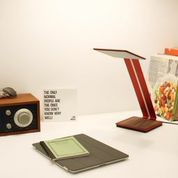 Aerelight Design, a product design studio with engineers from OTI Lumionics, is focused on developing innovative OLED-enabled lighting. The company recently announced the Aerelight desk lamp. Powered by an advanced energy-efficient OLED light panel, the Aerelight lamp provides a warm, natural light source unlike that of a traditional lamp or overhead light.
Organic light emitting diode (OLED) is the next-generation of energy-efficient lighting, generating natural light by passing electricity through a thin layer of carbon-based organic dyes. OTI Lumionics started Aerelight Design with an exclusive focus on OLED light to demonstrate that the technology is finally ready for the consumer market. While the technology has been successfully implemented into high-end smartphone displays in the last few years, the launch of the aerelight desk lamp marks the first consumer-ready OLED lamp at an affordable price.
OLED Light Panel Powered by an energy-efficient OLED light panel that uses only a fraction of the energy of traditional light sources, the aerelight desk lamp delivers natural full-spectrum warm light suitable for home or office use.
Dimmable – The Aerelight desk lamp is suitable for the most demanding tasks, but can also be fully dimmed for mood lighting.
Touch Control – Simple to use with no buttons, both power and dimming capabilities for the Aerelight desk lamp can be controlled by touching anywhere on the anodized aluminum frame.
Wireless Charging – The Aerelight desk lamp includes a wireless charging pad integrated into the base to conveniently charge any Qi-compatible mobile devices.
Unique Design – Built from a single piece of anodized aluminum that accentuates the ultra-thin form of the OLED light panel, the Aerelight desk lamp is available in three finishes – red, silver and black.