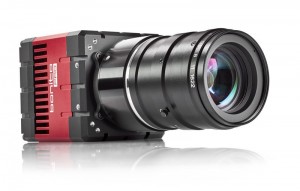 The camera manufacturer Allied Vision expands its portfolio with an all-new camera family with CoaXPress interface for high-speed and high-bandwidth applications. At market introduction, the Bonito PRO family consists of two models: the 12.6-megapixel camera Bonito PRO X-1250 and the 26.2-megapixel Bonito PRO X-2620. Equipped with four CXP-6 high-speed connections, the cameras are capable to transmit 25 gigabits per second of image data.
For challenging conditions and applications
With a combination of high resolution, high frame rates and a comprehensive feature set including sequencer control and multiple regions of interest (Multi ROI), these cameras meet the requirements of demanding inspection applications that require high-definition imaging and high throughput. Typical application fields are automated optical inspection, flat-panel display inspection, printing inspection, 2D/3D surface inspection and aerial surveillance.
Moreover, the Bonito PRO is a rugged camera with a robust thermal housing that is designed to operate at extended temperature ranges and enables the user to select between multiple lens mount options, e.g., F-mount (default), M42, M58 and EF-mount, including focus and iris control.
Two models with On Semiconductor PYTHON sensors
The 12.6-megapixel camera Bonito PRO X-1250 incorporates the high-quality ON Semiconductor PYTHON 12K CMOS sensor and offers a frame rate of up to 142.6 frames per second (fps) at full resolution. The 26.2-megapixel camera Bonito PRO X-2620 is equipped with the ON Semiconductor PYTHON 26K CMOS sensor. At full resolution the maximum frame rate is 79.7 fps. Both cameras focus on outstanding image quality at high frame rates and are offered as monochrome, color and NIR models with extended near infrared sensitivity.
Bonito PRO X-1250 and Bonito PRO X-2620 at a glance